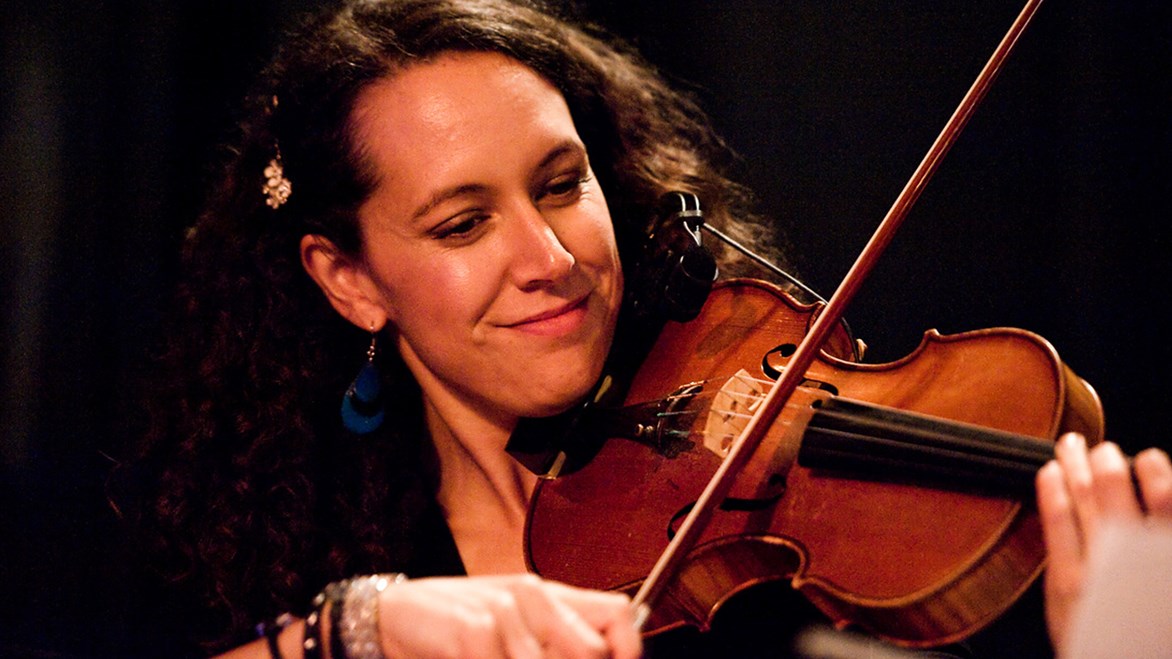 Dive into the exotic world of Argentinian tango music with two 1.5 hour sessions daily –filled with romantic melodies, pounding bass and exhilarating syncopations. Tango is a rich fusion between Italian opera, Spanish habanera, African rhythms and Eastern European gypsy music.

STANDARD: LOWER/UPPER INTERMEDIATE, ADVANCED

Fee: £120 (25% off for under 27s) Code: 20/OL33
What is the course about?
Caroline Pearsall has been working as a professional tango violinist for the past 17 years, touring all over the world with various tango groups and shows and currently runs the London Tango Orchestra and Caminito Orchestra Escuela. This course will show you some of the unusual percussive instrumental techniques used in tango playing as well as introducing you to some of the most famous orchestral styles (Canaro, Di Sarli, Pugliese, D'Arienzo...). There will be some pieces by Astor Piazzolla and you will discover more about where he came from and the kind of interpretive freedom needed to fill his music with tango soul straight from Buenos Aires!
Tango music is filled with syncopations and dramatic phrasing, and has its own unique swing to it. You will learn about what makes tango tango and discover new ways of playing expressively on your instrument. Learning to play tango also invites you to learn more about improvising and discovering your own musical voice. We're looking for strings, flute, clarinet, piano, bass and bandoneons (or accordions) to recreate the sound of a typical tango orchestra. The arrangements can be made to cater to all levels so if you fancy a bit of tango don't hesitate to join us, whatever your level. Ability to read music necessary.
Tutor website: www.carolinepearsall.com
What will we cover?
Tango Rhythms, Articulation, Phrasing, Styles from the 1920s, 1940s and Piazzolla, Percussive Effects, embellishing melodies.
What will we accomplish? By the end of this course you will be able to…
Play with more expression and freedom
Play some new techniques and sounds
Have a global idea of tango music from the last 100 years
Get an insight into the richness, variety and uniqueness of this music
Be able to recreate the authentic tango sound of the Golden Era
Step into the beginnings of melodic improvisation
What level is the course and do I need any particular skills?
You need to be able to read music
You need to enjoy trying new things and be interested in discovering a lot more about syncopations
Lower/Upper Intermediate, Advanced
How will the course be taught, and will any preparation be required?
This course functions as a play along with the tutor online
Ideally you will learn the notes before coming – so we can get deeper into the music
The tutor will coach the group, show how to work on certain passages, give advice for practise
Will music be provided in advance of the course?
Yes, it will be available on this website… please download and print your parts and learn the notes beforehand and please listen to the mp3s provided too.
Is there anything I need to bring?
Pencils and manuscript paper; Access to a computer or laptop with a built-in microphone/speaker and camera.
What previous participants said about this course…
"Caroline put a huge effort into preparing the materials and she adapted admirably to the class working over Zoom. She also managed to convey her expertise and enthusiasm extremely well and was very patient, giving tailored feedback to each individual.

"Perfect mix of music to play, technique described, illustrated, brilliantly prepared and taught by tutor obviously immersed in tango. Inspiring content."

"I thought Caroline prepared this challenging material very well and put a lot of work into it. Full of content and well thought out. She's so passionate and knowledgeable about the subject and spent time coaching each participant individually. A very encouraging and inspiring teacher and musician."

"Caroline was extremely knowledgeable, enthusiastic and ready to help and challenge us each to the right degree. She gave lots of individual attention. She was patient, respectful and tactful to all, always willing to answer questions, demonstrate or explain again, and very encouraging and positive. As well as specific technique, we also learned about the performance history and development of the style - it has filled in a large blank in my music appreciation."