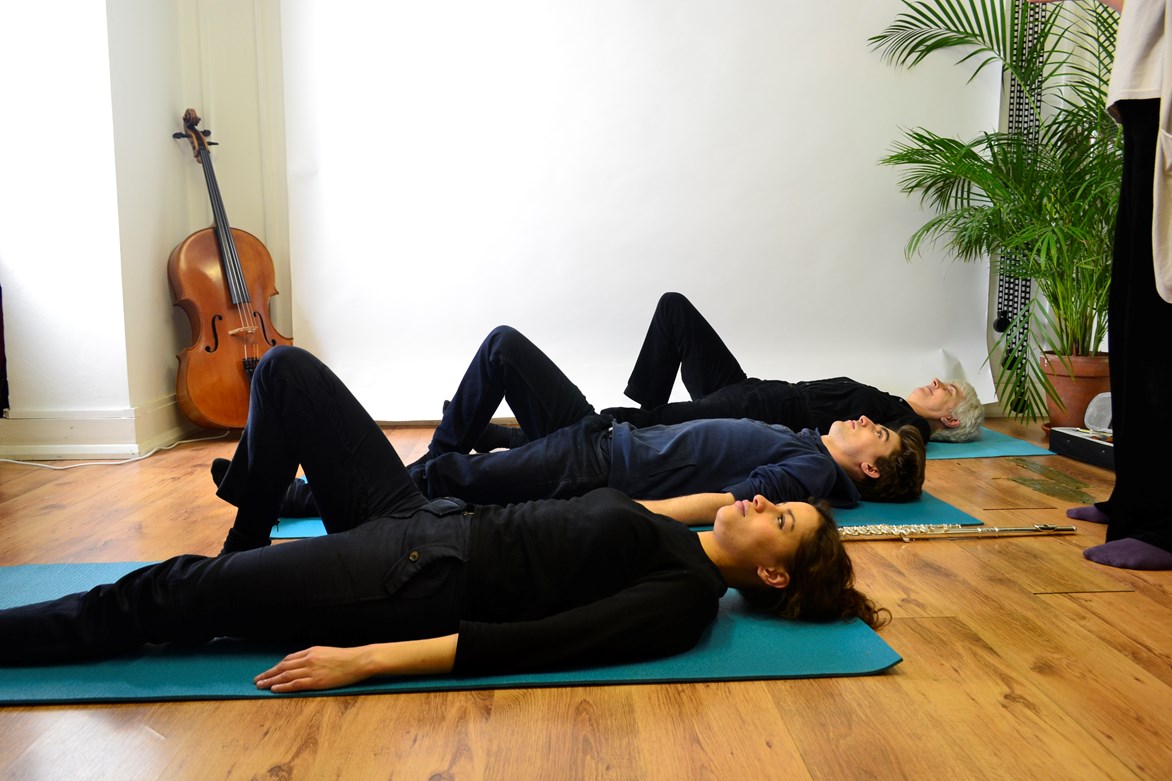 Nourish and enrich your private musical practice in the comfort and safety of your own home. There will be two daily Zoom sessions at 11am-1pm and 2-4pm, exploring various aspects of your practising, rehearsing and performing experience. All instrumentalists and singers of all abilities welcome!

STANDARD: ALL

Fee: £160 (25% off for under 27s) Code: 20/OL30
What is the course about?
According to Dr Moshe Feldenkrais the average person uses roughly 5% of their potential.
Whichever our instrument, fundamentally it is our body and brain which are the source of our music-making. When we improve our body maps and refine our motor and sensory perception, we ourselves can develop into more finely tuned "instruments". This process can unlock closed doors and even lead to the discovery of doors that we didn't know about, opening new possibilities and creativity in our playing and revealing our potential for improvement, growth and learning.
The course will include Feldenkrais Awareness Through Movement® lessons, in various positions (lying, sitting, standing), designed to improve and refine your sensory motor awareness. Participants will be invited to compare their playing 'before' and 'after' the movement explorations, muted in the privacy of your own home. There will also be the opportunity, if you wish, to play to each other in this relaxed, non-judgmental workshop environment to focus on your individual needs and discover ways to integrate the new experiences into your playing. To allow time for this element of the workshop, participant numbers will be capped at ten. After the event, course materials and recordings (subject to participant permission) will be made available.
In advance of the course, participants are encouraged to identify one or two specific aspects of their playing which they would particularly like to address, and to prepare a short and manageable piece or passage suitable for 'before and after' experiencing.
"If you know what you are doing, you can do what you want.

If you do not know what you are doing, you cannot do what you want."

Dr Moshe Feldenkrais
For more information about the Feldenkrais Method:
www.feldenkrais-westherts.co.uk
Is there anything I need to bring?
Instrument
Loose unrestricted clothing
Mat or thick blanket for lying on the floor
Firm pad, block or book for head support when lying, if needed.
Access to a computer, laptop or phone with a built-in microphone/speaker and camera, and a stable internet connection.
What previous participants said about this course…
"Everything explained very clearly, calmly and supportively. Plenty of opportunity for questions and discussion."

"The teaching on this course was excellent, very well communicated and effective. I've really gained a lot from this course and it has dealt with a lot of playing and tension issues that I carried for a long time - playing has really taken off as a result! I also really appreciate the follow-up contact offered so I can continue to build on this."

"The tutorial content of the course was excellent, leading through the increased awareness to more freedom in expressing one' musical intentions."