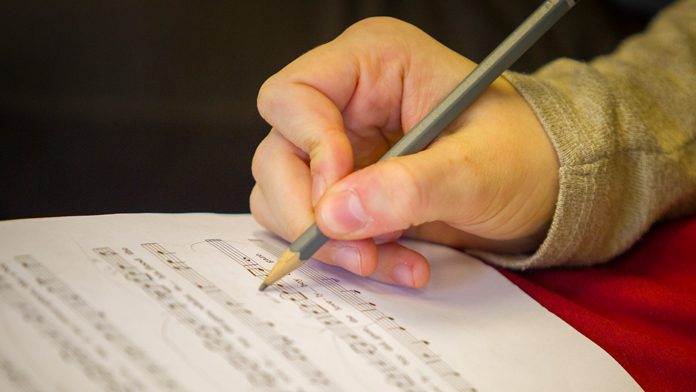 Log-in twice daily for online classes, with help by email/phone at other times. Technical help with Zoom will be given before the course starts to ensure all goes smoothly.

STANDARD: LOWER/UPPER INTERMEDIATE

Fee: £200 (25% off for under 27s) Code: 20/OL25
What is the course about?
This five-day course leads you through all the main elements of the ABRSM Grade 5 Theory syllabus, in a topic-based, classroom-style, supportive approach with plentiful examples and instant feedback.
Each day will start with a group log-in to Zoom at 10am for the first session, which will last until 11.30am. The second session of the day will start at 2.30pm and last until 4.00pm. A small amount of work will be set at the end of each afternoon session for completion offline, with access to the tutor by phone or email if needed. A comprehensive workbook including a timetable for each day will be circulated before the course via email.
This online course is scheduled two weeks before the first online ABRSM Grade 5 Theory exam, and will cover all you need to know, as well as preparing you for the new-style online exam. The first opportunity to take this new exam is 26 August. If you would like to take the exam on 26 August, please note that the booking period closes on 31 July.
"The tutor was very knowledgeable on her subject. She had a clear teaching strategy and kept to that plan. We had a small group which helped in exploring the material."

"The teaching was superb; extremely clear, patient, and beneficial for each student."

"The best moment of the course for me was realising that I could understand time signatures, when clearly broken down and effectively explained. I'd wanted that for years."
Our tutor, Katharine Bramley, is a freelance pianist and teacher and has taught many courses at Benslow Music. She studied piano, organ and viola as a child, going on to read music at Selwyn College, Cambridge, and music education at the University of London. She now divides her time between examining for ABRSM, accompanying, adjudicating and teaching both at a preparatory school and privately. She specialises in coaching adults and children in music theory, harmony, and aural skills, and has devised and delivered numerous workshops and courses both in the UK and abroad.
What will we cover?
The course will cover all the elements of the ABRSM Grade 5 Theory syllabus, particularly C clefs, key and time signatures. scales, intervals, transposition, chords and cadences.
What will we accomplish? By the end of this course you will be able to…
By the end of this course you will feel more confident in tackling all the aspects of ABRSM Grade 5 Theory.
What level is the course and do I need any particular skills?
No previous theory of music exam passes are needed, but general musical knowledge that would be gained from playing an instrument or singing to approx Grade 3-5 standard will be assumed.
How will the course be taught, and will any preparation be required?
No preparation is required. The course will be taught in a classroom format, with students tackling plenty of examples, and supportive feedback. Before the course starts, students will be contacted individually by the tutor to discuss particular needs and to assist in setting up Zoom, if needed.
Will music be provided in advance of the course?
A comprehensive course booklet will be provided before the start of the course. This will need to be printed out.
Is there anything I need to bring?
A computer/tablet, printer, pencils, eraser and manuscript paper.