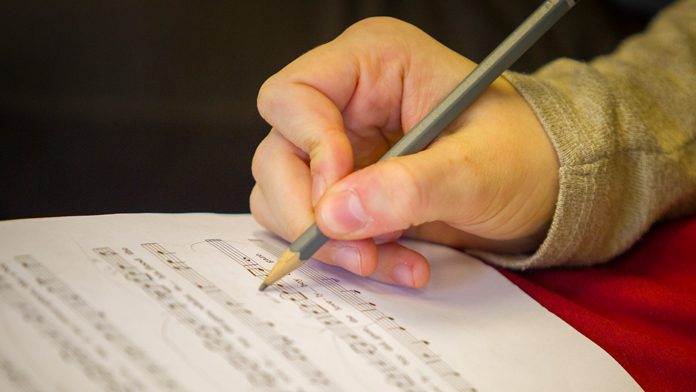 A weekend to immerse yourself in your passion for composing by discussing your work individually and as a group. Collaborating with others to develop a greater knowledge of listening to other composer's work and develop your own skills as a composer.

STANDARD: LOWER/UPPER INTERMEDIATE, ADVANCED

Resident: £295 Non-Resident: £215 Code: 20/20JJ
What is the course about?
One of the most admired British composers of his generation, Andrew Toovey is also an experienced, sensitive and inspirational teacher. On this weekend course he advises and encourages, enabling students to find their own voices while developing the sometimes painful skills of self-criticism and self-editing. We'll willingly put Andrew in touch with applicants in advance so that he can offer you guidance on how to prepare. We encourage concurrent courses to collaborate.
Tutor website: www.andrewtoovey.co.uk
What will we cover?
Many aspects of composition (practical things such as clear notation as well as melody, harmony, word setting) that are tailored to the needs of the students will be discussed and a wide-range of scores/composers will be focused on.
What will we accomplish? By the end of this course you will be able to…
Focus clearly on what works well in your composition and develop areas that need further attention and development.
What level is the course and do I need any particular skills?
This composition course is open to a wide range of skill, previous knowledge and experiences and requires you to bring a selection of your previous composition work to be discussed with Andrew and the other students.
All Lower/Upper Intermediate, Advanced are accepted.
How will the course be taught, and will any preparation be required?
Students should bring scores/recordings where possible of a selection of previous compositions they have written. A short personal introduction from each student about their composing experiences will start the course and focused discussions will lead from this. Each student will be given a score/recording of a piece to listen to and give feedback on to the group and Andrew will present a collection of music that will focus on many aspects of the composition. Each student also has a one-to-one hour long lesson with Andrew to delve deeper into the individual composition experience.If you play an instrument bring that along as we may attempt some improvisation and trying out of ideas.
Will music be provided in advance of the course?
Students need only to bring some of their own compositions as examples of their previous work.
Is there anything I need to bring?
If composition is on a computer then bring that and if you play an instrument bring that so we can do improvisation.
What previous participants said about this course…
"I found the discussions very stimulating, with lots of new ideas. Interaction with the other composers on the course was good, as were the one to one's and listening to CDs of modern composers."

"A chance to share ideas and experiences of composing."

"It's a course that gets you really thinking about what you already do as a composer. Do expect a kind of wizardry - a tapping in to individual concerns."

"Andrew Toovey was excellent, inspiring and fun!"

"The one to one session with Andrew was excellent. I took a lot away from it."
Booking for Members opens at 9am on Tuesday 7 January 2020. Non-Nember and Online booking opens at 9am on Monday 3 February 2020. For details on how to become a Member to take advantage of early booking see here.