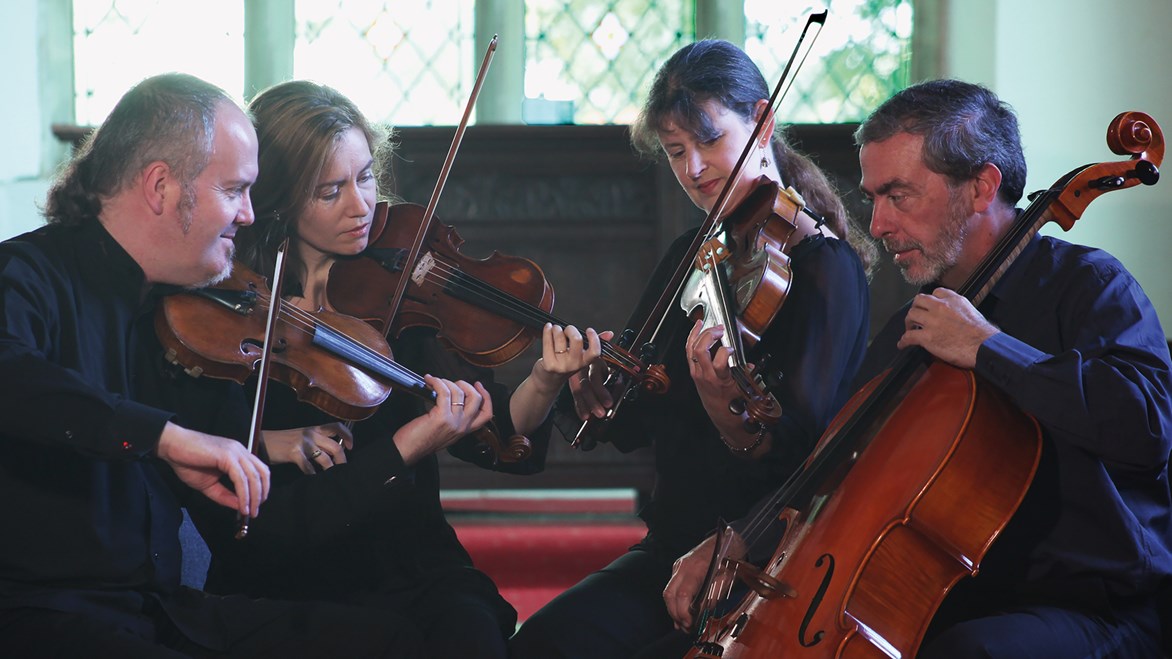 Pianist Nigel Clayton and the Bingham Quartet return with another of their special weekends devoted to coaching pre-formed ensembles.

STANDARD: CONFIDENT, SKILFUL

Resident: £463 Non-Resident: £355 (25% off for under 27s) Code: 21/R12

Booking for Members opens at 9am on Friday 14 May 2021.

Non-Member and online booking opens at 9am on Friday 18 June 2021.

For details on how to become a Member to take advantage of early booking, see here.
What is the course about?
Whether you come as a string quartet or a piano quintet (or piano trio, or string sextet), this all-embracing chamber music course taught by the Bingham Quartet and pianist Nigel Clayton offers in-depth help with the repertoire you bring as our experienced, ever-affable tutors share their skills and imaginations with you. This extremely popular course is available in two sizes, covering a three-night stay or a two-night stay, and entry for the public concert on Friday at 8pm is included in the course fee.
Tutor website: www.binghamquartet.net
What will we cover?
Detailed coaching is provided by all five tutors on all aspects of chamber music playing, both technical and musical. The knowledge gained by the tutors over many years is used to great effect to enhance participants' enjoyment of the course.
What will we accomplish? By the end of this course you will be able to…
Know more about your chosen repertoire, and will have gained insight into the technical difficulties involved and will have improved your musical interpretation.
What level is the course and do I need any particular skills?
Just a pre-formed group!
Confident, Skilful
How will the course be taught, and will any preparation be required?
It is helpful if the group has prepared their chosen repertoire a little before the course, but not an absolute requirement. No written work. Peer feedback is possible in our usual open masterclass session. Other feedback is from tutors to individual groups, and groups are encouraged to look constructively at each other's playing within the group.
Will music be provided in advance of the course?
Participants bring their own music or use the Benslow Library.
Is there anything I need to bring?
Instruments and music!
What previous participants said about this course…
"The Binghams are always friendly and approachable and have a great ability to get the best out of the quartet being tutored."

"As always with the Binghams, very interesting and helpful coaching, particularly on matters of intonation and the usual friendly and informal atmosphere throughout the course."

"Very friendly, informative, supportive, enthusiastic."