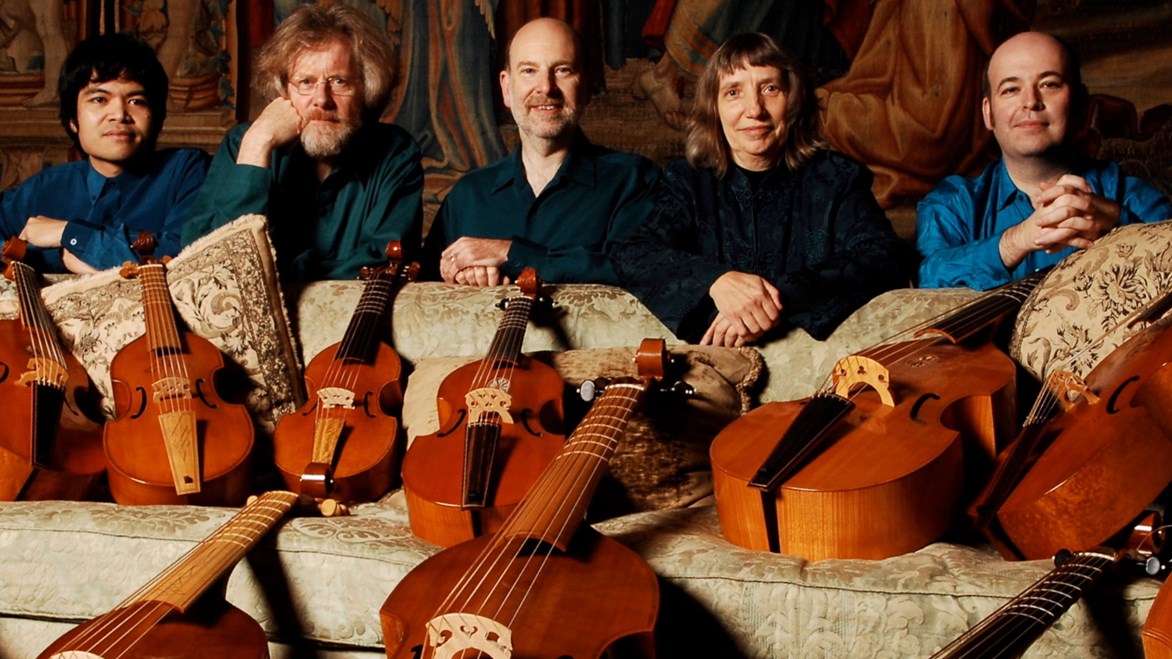 Two or three days of viol consort playing in preformed groups of any level, studying in depth any music chosen by the group, coached by members of the Rose Consort of Viols.

STANDARD: ELEMENTARY, LOWER/UPPER INTERMEDIATE, ADVANCED

Resident: £295 Non-Resident: £215 Code: 20/20DD
What is the course about?
This extremely popular weekend course offers up to eight pre-formed viol consorts of any level the chance to work with Alison Crum and members of the renowned Rose Consort of Viols on music of their own choice. This year we are offering the option of an early arrival for an extra day of coaching. Each group will be coached by a tutor for half of every playing session, and each will work with every tutor during the course. Students will be coached on technical and musical aspects of what they play, and will learn about the music's structure and about how better to articulate it through applying historically appropriate techniques.
Tutor website: https://www.alisoncrum.co.uk/
What will we cover?
A variety of music chosen by the preformed groups (usually decided in advance) which is suitable for viols to play. This could include vocal music and/or contemporary music, as well as the standard viol repertoire.
What will we accomplish? By the end of this course you will be able to…
Have a better understanding of the music you have chosen to study, and learn how to use certain viol techniques which will enhance your playing of these pieces, both individually and as a group. Spend concentrated time with your own group, achieving better ensemble. Meet players from other groups in free time.
What level is the course and do I need any particular skills?
This course is for groups of any level, from beginners to advanced. However the group must be able to function without the help of a tutor, since half the time will be untutored. You will be expected to choose and bring your own music, and be tuned and ready for coaching at the appointed time.
How will the course be taught, and will any preparation be required?
Each group will have a tutor for at least half of each session, and possibly for longer. Tutors will rotate between all groups, and a coaching timetable will be provided at the start of the course.
There is no specific preparation needed for this course, except to choose and bring all the music you would like to play, with a score for the tutor. However groups will benefit from rehearsing together before the course if possible, so that coaching can begin at a higher level, and better results can be achieved.
Will music be provided in advance of the course?
NO - music will not be provided or suggested in advance of the course. Participants are required to choose and bring all their own music, with scores for the tutor. Tutors may be able to help with providing scores if you do not have them, but this must be requested by email, a few days in advance of the course.
Is there anything I need to bring?
Viols, with spare strings. Music (as above), with a folder to put behind single sheets of music.
Tuning meter. Stand lights, if eyesight is poor. Folding stands if you prefer not to use orchestral ones.
What previous participants said about this course…
"We enjoyed a great percentage of expert tutored sessions and consequently felt we grew as a Consort over the week-end."

"An excellent way to get consort tuition by some of the best tutors in the country."

"A really good way to advance your consort playing experience."

"Some excellent tutors. No complaints. As usual, I learned a lot."
Booking for Members opens at 9am on Monday 6 January 2020. Non-Nember and Online booking opens at 9am on Monday 3 February 2020. For details on how to become a Member to take advantage of early booking see here.