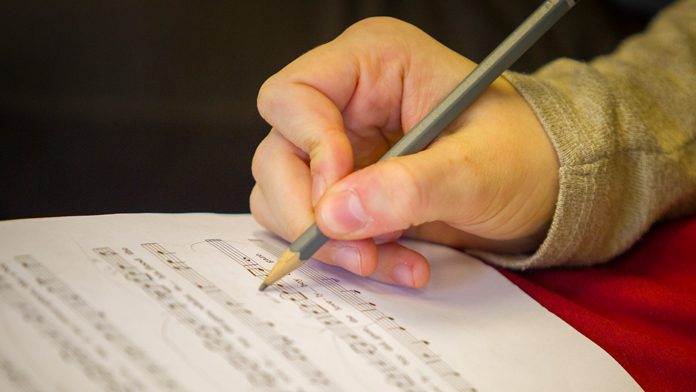 A concentrated course to enable you to make workable arrangements and orchestrations for various combinations, especially for your own groups. Covering large and small orchestras, brass, wind and dance bands, choirs and mixed instrumental groups

STANDARD: IMPROVER, CONFIDENT, SKILFUL

Resident: £339 Non-Resident: £246 (25% off for under 27s) Code: 22/271

Booking for Members opens at 11am on Monday 9 May 2022.

Non-Member and online booking opens at 11am on Monday 13 June 2022.

For details on how to become a Member to take advantage of early booking, see here.
What is the course about?
The course is designed to offer you the opportunity to widen your knowledge and confidence about arranging music for the groups with which you are involved and for wider use. Depending of the needs of each participant, the course covers:
Instruments and their ranges
Mixed combinations of instruments
Basic harmony and modulation
Use of appropriate clefs including Alto and Tenor clefs and other things such as chord symbols
Getting the best colour in sound from the blend of instruments available
Enriching the harmony for colour in the music
Adding counter melodies and jazz chords where appropriate
Balance in mixed vocal and instrumental groups
Helping you to be adventurous in realising your imagination
Demonstrations of different styles of arranging using audio along with score
What will we cover?
As many of the aspects above as possible relating to the background and experience of the group. The participants will be encouraged to play their work in progress to the rest of the group.
What will we accomplish? By the end of this course you will be able to…
At least make basic arrangements for the groups where your interest lies and ideas for future development.
What level is the course and do I need any particular skills?
Participants can be accommodated at whatever level they have reached. (A basic level of musical theory and reading is required). It is normal to find different levels of experience and confidence. Teamwork within the group is most useful
How will the course be taught, and will any preparation be required?
The course is taught both verbally and with aural and printed example
Will music be provided in advance of the course?
Participants are requested to bring some of their own music which they may be working on. Alternatively, repertoire will be available to participants at the start of the course or earlier if the request. Contact us at info@benslowmusic.org if you want to be put in touch with tutor before the course to discuss repertoire.
Is there anything I need to bring?
If you use a laptop, please bring it (with headphones). If you prefer to use manuscript paper it's fine. You are welcome to bring an instrument to demonstrate your arrangements of those of others.
What previous participants said about this course…
"The tutor was very knowledgeable and willing to help, and I gained a lot of useful knowledge and helpful ideas of how to continue my arrangement."

"Alwyn the tutor was excellent."

"First rate."