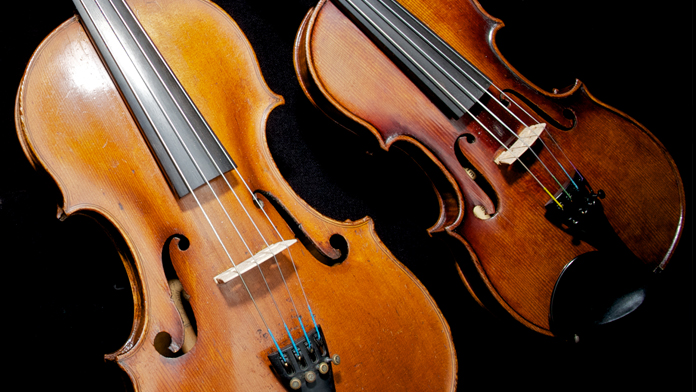 Expert coaching with the benefit of an excellent piano accompanist and learning from listening to other participants in a friendly, encouraging atmosphere.

STANDARD: UPPER INTERMEDIATE, ADVANCED

Resident: £430 Non-Resident: £330 Code: 20/361
What is the course about?
We are delighted to welcome back Madeleine Mitchell, "one of Britain's liveliest musical forces and foremost violinists" for this course focusing on violin repertoire. She will be joined by Benslow Music favourite Nigel Clayton and will be working on all issues of repertoire, technique and interpretation in a positive classroom format. Please bring along a few pieces of your own choosing to work on during the week. The course fee also includes a ticket to the tutors' recital on the first evening.
Tutor website: www.madeleinemitchell.com
What will we cover?
Technical and musical coaching, all aspects of violin performance and how to work on this.
What will we accomplish? By the end of this course you will be able to…
This can be tailored to individual requirements such as wanting to perform a work to course members at the end of the course or just working intensively on chosen repertoire a, having the benefit of an excellent professional accompanist
What level is the course and do I need any particular skills?
Upper Intermediate, Advanced
How will the course be taught, and will any preparation be required?
Each participant will have prepared a piece/pieces ready to play and work at during the course and will take it in turn to perform with the professional accompanist, receiving Tutor feedback, guidance and demonstrations. They will also be able to give and receive peer feedback from the other curse members.
Will music be provided in advance of the course?
No, participants are requested to bring their own music. Helpful resources: IMSLP has a wide range of parts and scores. Benslow Music members may be able to hire the music from our library.
Is there anything I need to bring?
A copy of the music score for the tutors.
What previous participants said about this course…
"It's a great mix of encouragement and critical analysis which is really useful in improving what I do."

"I've come home with many things to experiment with, from my own and also from watching other people's sessions."

"Supportive atmosphere and insightful teaching."
Booking for Members opens at 9am on Tuesday 7 January 2020. Non-Nember and Online booking opens at 9am on Monday 3 February 2020. For details on how to become a Member to take advantage of early booking see here.