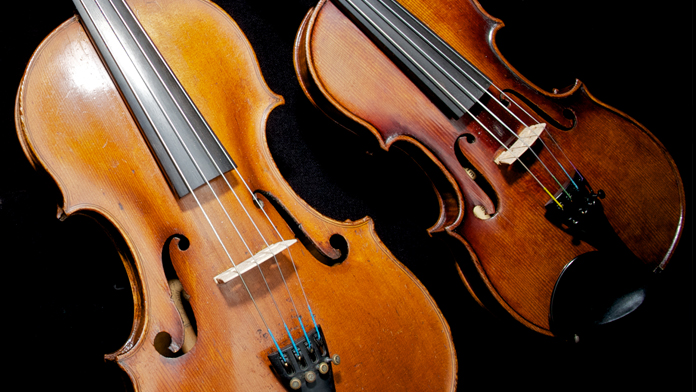 This course provides an opportunity for individual string players of modest ability to enjoy playing together as a string orchestra.

STANDARD: IMPROVER, CONFIDENT

Resident: £359 Non-Resident: £260 £366 Code: 23/285

Booking for Members opens at 11am on Tuesday 16 May, 2023

Non-Member and online booking opens at 9am on Tuesday 13 June, 2023

For details on how to become a Member to take advantage of early booking, see here.
What is the course about?
This course takes the form of a string orchestra (which can include double bass) and is designed for string players of an intermediate standard to gain experience and confidence in a string ensemble. The repertoire will comprise string music and arrangements for strings in a variety of styles, and in keys which could range from four sharps to four flats. The repertoire is determined about six weeks in advance, and will be available on the website for download and practice prior to the course. The tutors are pleased to help with technical issues as they arise during the course.
What will we cover?
We will play string music of several genres and practise the technical and musical issues required to improve its performance.
What will we accomplish? By the end of this course you will be able to…
You should have enjoyed being part of a satisfying musical experience.
What level is the course and do I need any particular skills?
Lower/Upper Intermediate, a minimum Grade 3 standard is recommended.
How will the course be taught, and will any preparation be required?
We generally work in one group with the option of a sectional rehearsal if and when appropriate. Preparation of the particular repertoire is an advantage but not essential.
Will music be provided in advance of the course?
Yes, it will be available on this website from approximately six weeks before the course.
Is there anything I need to bring?
Instrument and rehearsal pencil and rubber.
What previous participants said about this course…
"An excellent way of stretching ones playing within a safe and supportive environment."

"Very friendly and caring group, nice accommodation, good food and relaxing."

"The tutors were very thorough and encouraging. Very clear instruction, good atmosphere and company."