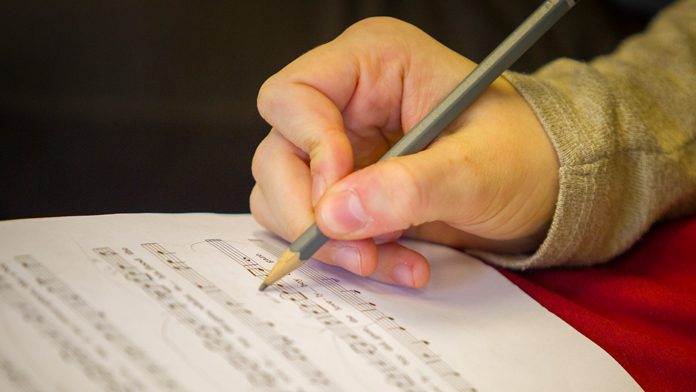 Katharine Bramley returns to Benslow Music with this popular course based around the ABRSM Grade 5 Theory syllabus. An intensive but fun weekend, suitable for those preparing for the exam as well as those who are simply interested.

STANDARD: LOWER/UPPER INTERMEDIATE

Resident: £295 Non-Resident: £215 Code: 20/20D
What is the course about?
The course is taught in a classroom format with numbers kept deliberately low so that each participant can benefit fully, with individual help given as necessary. There are plenty of music theory textbooks available in the shops, but Katharine believes that the best way to learn is by working on examples with plenty of tutor input and guidance in a supportive and friendly environment. The course is intensive but hugely informative and, most importantly, fun! There is an opportunity to try out your new-found skills with a mock exam on the final afternoon, and many participants find this a very useful experience. Participants should bring pencils, eraser and manuscript paper.
What will we cover?
Understanding key and time signatures; C clefs; major, minor (harmonic and melodic) and chromatic scales; intervals; transposition; chords and cadences.
What will we accomplish? By the end of this course you will be able to…
By the end of the course you will have an understanding of the basics of music theory as represented in the ABRSM Grade 5 Theory syllabus, and you will have the knowledge, skills and understanding to be able to tackle typical exam questions.
What level is the course and do I need any particular skills?
Whilst the course assumes a basic knowledge of music theory, such as would be gained through playing an instrument or singing, no previous theory qualifications are expected or required.
Lower/Upper Intermediate
How will the course be taught, and will any preparation be required?
The course is taught in a classroom format, with the emphasis on 'doing' rather than simply listening. A typical session might start with an explanation from the tutor with worked examples on the whiteboard, with students then encouraged to try further examples for themselves, with immediate tutor feedback and guidance. Course members will be given a specially-designed workbook, and will use this throughout the weekend. No formal preparation is required.
Is there anything I need to bring?
Participants should bring pencils, eraser and manuscript paper.
What previous participants said about this course…
"I thoroughly recommend the Grade 5 Theory course tutored by Katharine Bramley. Despite the group's background knowledge covering quite a wide range Katharine made everything she said appropriate for us all. The course materials were excellent and will make useful reference tools. I found the voluntary mock exam at the end challenging in a good way particularly to help identify those things on which I need to do more work."

"The tutor was very knowledgeable on her subject. She had a clear teaching strategy and kept to that plan. We had a small group which helped in exploring the material."

"The teaching was superb; extremely clear, patient, and beneficial for each student."

"The best moment of the course for me was realising that I could understand time signatures, when clearly broken down and effectively explained. I'd wanted that for years."
Booking for Members opens at 9am on Tuesday 7 January 2020. Non-Nember and Online booking opens at 9am on Monday 3 February 2020. For details on how to become a Member to take advantage of early booking see here.