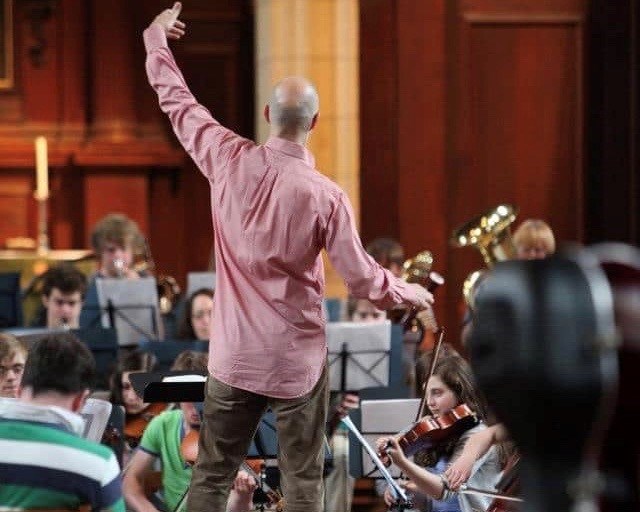 A unique opportunity for orchestral musicians and conductors to explore a shared approach to interpreting the repertoire.

STANDARD: UPPER INTERMEDIATE, ADVANCED

Fee: £120 (25% off for under 27s) Code: 20/OL32
What is the course about?
A common understanding of the relationship between orchestra and conductor involves the conductor arriving at the first rehearsal with a preconceived idea of how he or she wishes to interpret the programme; subsequent rehearsals focus on the communication of this interpretation to the orchestra, eventually realised in performance. This is a fiction. Even if rehearsals lasted for months, no conductor could communicate every detail of their interpretation without driving everyone to distraction. In the real world, interpretations are arrived at through a collaboration between conductor and orchestra. This fact is rarely acknowledged, and this course offers an opportunity for orchestral musicians and conductors to cross imaginary boundaries which have long hindered the development of good working practice.
Tutor website: https://youtu.be/i82Qusz0mtc
What will we cover?
Score preparation, interpretation, advanced listening skills, rehearsal technique and performance anxiety.
What will we accomplish? By the end of this course you will have…
enhanced your skills in preparing parts and scores, developed your skills as an interpreter, developed your listening skills, gained a new understanding of rehearsal technique, and explored how to tackle your own and others' performance anxiety.
What level is the course and do I need any particular skills?
This course is suitable for musicians who are at least ABRSM Grade 6 standard or higher on at least one instrument. No previous conducting or orchestral experience is required to join the course.
How will the course be taught, and will any preparation be required?
Students will be asked to familiarise themselves with Mozart's 'Jupiter' Symphony, Beethoven's 'Eroica', Brahms' Symphony no.1 and Mahler's Symphony no.5. Each session will be taught with reference to one or more of these works. The tutor will present a range of approaches to preparation and interpretation of the repertoire, and participants will be invited to play and conduct fragments of scores as the basis for discussion. There will be two daily classes between 10am-11.30am and 2.30pm-4pm each day.
Will music be provided in advance of the course?
All scores and parts are available on IMSLP, although hard copies of scores would be preferable.
Is there anything I need to bring?
Any instruments you play and copies of the repertoire we'll be working on.
What previous participants said about this course…
"Small class size, so lots of individual attention /tuition. Great to be able to work with the string orchestra. Chris was very generous sharing his knowledge and experience and paid attention to each individual's needs and goals. Each session was focused and progressed naturally."

"Good all-round introduction to conducting. Good fun and great socialising too."

"Informative and stimulating."

The best moment was… "Being re-assured that I could stand in front of a group and conduct."