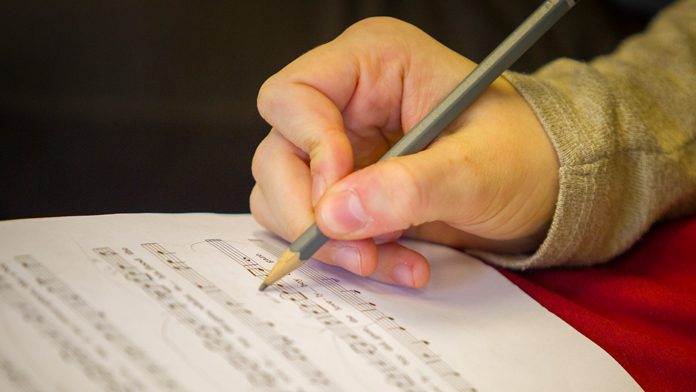 Katharine Bramley leads a course based around the ABRSM Grade 6 Theory syllabus, suitable for those who have done Grade 5 Theory and want to go on to explore harmony and melody.

STANDARD: CONFIDENT, SKILFUL

Resident: £402 Non-Resident: £292 (25% off for under 27s) Code: 24/239

Booking for Members opens at 11am on Monday 20 November 2023

Non-Member and online booking opens at 11am on Monday 11 December 2023

For details on how to become a Member to take advantage of early booking, see here.
What is the course about?
Following on from our Grade 5 Theory course, Katharine Bramley returns with a course designed for those who are interested in progressing with theory to the higher grades. Whether you are intending to take a theory exam in the near future, or would like to learn more about harmony and melody writing, this is the course for you. It will also benefit anyone who is grappling with the chord and cadence recognition elements of the higher grade ABRSM aural tests. Participants should bring pencils, eraser and manuscript paper.
The course is taught in a classroom format with numbers kept deliberately low so that each participant can benefit fully, with individual help given as necessary. There are plenty of music theory textbooks available in the shops, but Katharine believes that the best way to learn is by working on examples with plenty of tutor input and guidance in a supportive and friendly environment. The course is intensive but hugely informative and, most importantly, fun!
What will we cover?
The course will focus on harmony and melody and will cover adding chords to a melody, written realisation of figured bass, and melody writing, as well as analysis of musical scores.
What will we accomplish? By the end of this course you will be able to…
By the end of the course you will understand how to approach the harmonisation of a melody and to select suitable chords; how to approach the realisation of a figured bass, and how to compose a melody.
What level is the course and do I need any particular skills?
No previous qualifications are required, but knowledge equivalent to that gained through studying Grade 5 Theory will be assumed.
Standard: Confident, Skilful
How will the course be taught, and will any preparation be required?
The course is taught in a classroom format, with the emphasis on 'doing' rather than simply listening. A typical session might start with an explanation from the tutor with worked examples on the whiteboard, with students then encouraged to try further examples for themselves, with immediate tutor feedback and guidance. Course members will be given a specially-designed workbook, and will use this throughout the weekend. No formal preparation is required.
Will music be provided in advance of the course?
N/A
Is there anything I need to bring?
Participants should bring pencils, eraser and manuscript paper.
What previous participants said about this course…
"Only course I have been able to find provided anywhere on the higher theory grades, so the course was a real boon as I plan to take the exams. The tutor was excellent, good handouts."

"The best moment was meeting other like-minded folk - sharing ideas/experiences and knowledge with each other."

"I feel far more knowledgeable to move forward towards Grade 8 theory - to support my own pupils at this level."