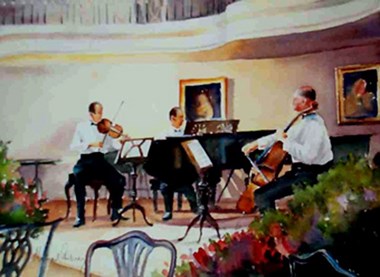 A rare opportunity to re-create a grand era of light orchestral music that appeals to audiences and performers alike.

STANDARD: CONFIDENT, SKILFUL

Resident: £339 Non-Resident: £246 (25% off for under 27s) Code: 22/274

Booking for Members opens at 11am on Monday 9 May 2022.

Non-Member and online booking opens at 11am on Monday 13 June 2022.

For details on how to become a Member to take advantage of early booking, see here.
What is the course about?
Pretty pieces, sentimental pieces, inspiring pieces, quirky novelties, dramatic juxtapositions. String players, woodwind soloists and (if balance allows) a few brass players and a pianist will enjoy the wide range of accessible music - light, popular and classical - which makes up a typical Palm Court programme. Our rehearsals, in chamber music style without conductor - and led, in time-honoured fashion, by a violin virtuoso - will be concentrated and demanding but also great fun. Typical features of the style such as phrasing, rhythmic freedom and expressiveness will be emphasised. Violinists may be asked to alternate between First and Second.
Tutor website: https://moonandstarsband.co.uk/about/
What level is the course and do I need any particular skills?
Standard: Confident, Skilful.
What previous participants said about this course…
"Good variety and Roger Moon adds interesting depth with information about the composers."

"This course was pure joy. Seeing old friends again, making new friends, and playing lovely music together with such great tutors - nothing more to ask."

"The coaching from Roger and Miriam was excellent, with a pleasant and relaxing atmosphere."