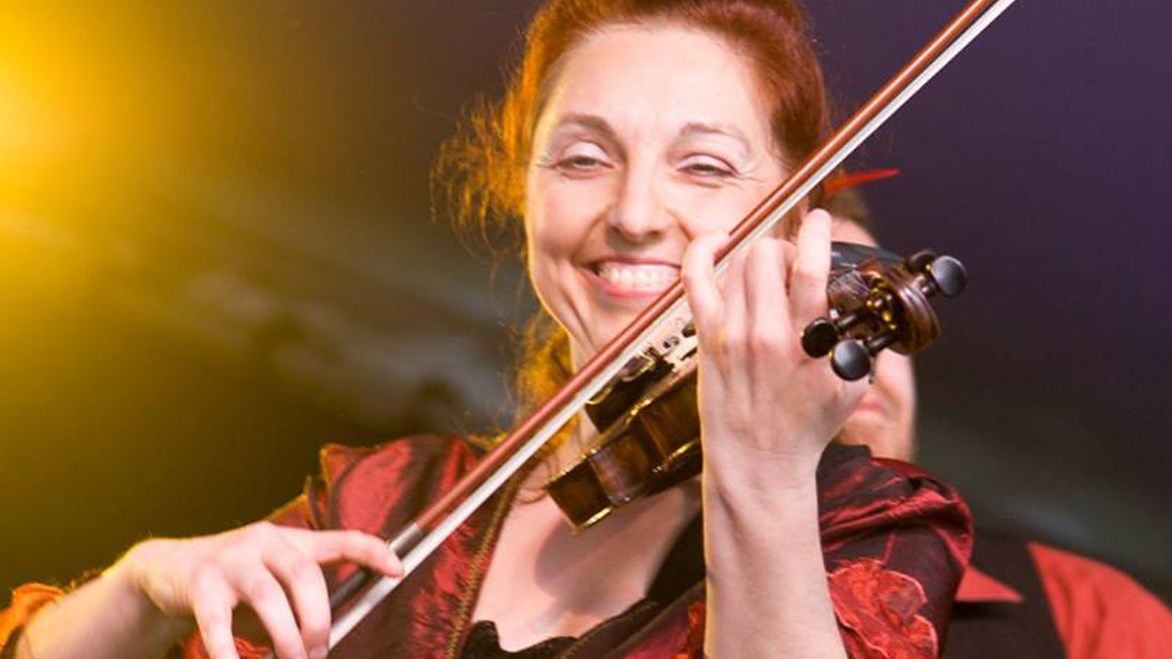 Learn music from of the Balkans and beyond. Influenced by rhythm patterns and melodic modes of the 17th-century Ottoman Empire, it melds Eastern and Western elements. For pitched instruments, vocalists and percussion of intermediate/advanced level.

STANDARD: IMPROVER, CONFIDENT, SKILFUL

Resident: £330 Non-Resident: £242 (25% off for under 27s) Code: 21/232

Booking for Members opens at 9am on Monday 11 January 2021.

Non-Member and online booking opens at 9am on Monday 8 February 2021.

For details on how to become a Member to take advantage of early booking, see here.
What is the course about?
This course is about music surrounding the Balkans, on the crossroads from East to West, from Europe to Asia and the borders to Northern Africa. Whilst this theme is an old one, it is full of new musical treasures to be discovered. Rhythm patterns and melody modes which developed in Istanbul in the 17th century spread throughout the Ottoman Empire and influenced both Eastern European and Asian/African music; some of those may derive from old Indian classical music, possibly having travelled to Europe and the Middle East with Romani people on their migrations from the 10th century onwards, leaving their traces on many local folk styles.
We shall learn music which combines Eastern and Western elements in rhythmic and/or melodic structure; also songs and instrumental music, which are non-Western, but are well-suited to be played by Western classical and folk instruments, and by musicians who have no prior knowledge of that style.
The course is taught by two tutors, one for all pitched instruments as well as voice, and one for percussion instruments. In separate sessions, we shall learn the music/rhythms. The groups will join to understand how melodies, harmonies and rhythms work together, and to experience the full power and joy of Balkan music making.
On the first evening, a concert will take place, featuring the group Tatcho Drom, led by violinist and singer Gundula Gruen, showcasing the type of music which will be taught in the course – entry is included in the course fee.
Tutor website: www.magicviolin.co.uk
What will we cover?
We will learn songs and tunes from the Balkans and the surrounding areas. Some will be in straight 2/4, 3/4 or 4/4 time signature and in major and minor keys, others in unusual meters such as 5/8, 7/8, 9/8, 11/16, and in modal tonalities.
Pitched instruments (of any tuning, shape and size) and vocalists will be taught by Gundula Gruen, as vocal and instrumental tunes often carry the same melody. The initial learning is by ear, sheets will be given out to assist the learning. We shall focus on the tune and possible harmonisation, ornamentation and phrasing, later harmonisation and chords, and the lyrics for vocalists. Accompaniment instruments may join the percussionists at times for extra coaching in rhythmic aspects.
Percussion instruments will be taught by Sass Hoory. They will be looking at traditional rhythm patterns from various areas, stemming from the Ottoman Empire and beyond. Rhythms in various time signatures, which are today performed in Bulgaria, Macedonia, Greece, Turkey, and all the way to North Africa and Iran. Sass will use vocalisation techniques from India to help the students internalise the rhythm and they will be encouraged to compose and improvise rhythms during the course. Examples of instruments that may be studied are Darbuka, Riq, Djembe, Davul, Tapan, Frame Drums, Cajon and related instruments; specific techniques of these instruments will be covered. Other percussion may be used, please get in touch if in doubt.
What will we accomplish? By the end of this course you will be able to…
Participants will have studied a variety of pieces in new time signatures, modes and tonalities. By the end of the course you will be able to perform a number of pieces from the Balkans and around. Advanced musicians will be confident, and be able to introduce those pieces into their own band's repertoire, as they will have knowledge of tunes, accompaniments and rhythm patterns. Less experienced musicians will have the foundation to work on the pieces in their own time to reach confidence.
Percussionists will be able to accompany Balkan music of various regions, and know the basics of various compound time signatures.
What level is the course and do I need any particular skills?
The level is from intermediate to advanced. You need to know your way around your instrument at lower intermediate level. The course is suitable for mixed-level learning, as the basic tunes and rhythms are often fairly easy, however, ornamentation and phrasing are challenging for any level.
In the actual style, no previous knowledge is necessary. As the teaching is combined by ear and from sheet, neither experience in learning by ear, or any skills in reading music is required.
How will the course be taught, and will any preparation be required?
All initial teaching is by ear, in the group. The melody instruments and singers start a new piece mostly by singing/humming, as this combines singers and instrumentalists, and any technical limitations are eliminated. Percussionists use vocalisation techniques. Sheet music will be handed out when necessary, and to take notes of certain elements. There are voluntary opportunities without obligation to play solo or to improvise.
Will music be provided in advance of the course?
Sheet music and other teaching materials are provided by the tutors during the course. There are no advance preparations required.
Is there anything I need to bring?
Bring your instrument(s) in good working order. A recording device is valuable as the sheet music does not necessarily replicate the precise phrasing, ornamentation or style – western notation does not cater for the taught styles.
What previous participants said about this course…
"Great varied programme. Very challenging for me! But encouraging."

"Tuition was excellent with attention to personal needs."

"I am just DELIGHTED that I have overcome my fear of learning by ear instead of notation. I loved playing through the music we learned and finding I could remember most of it."