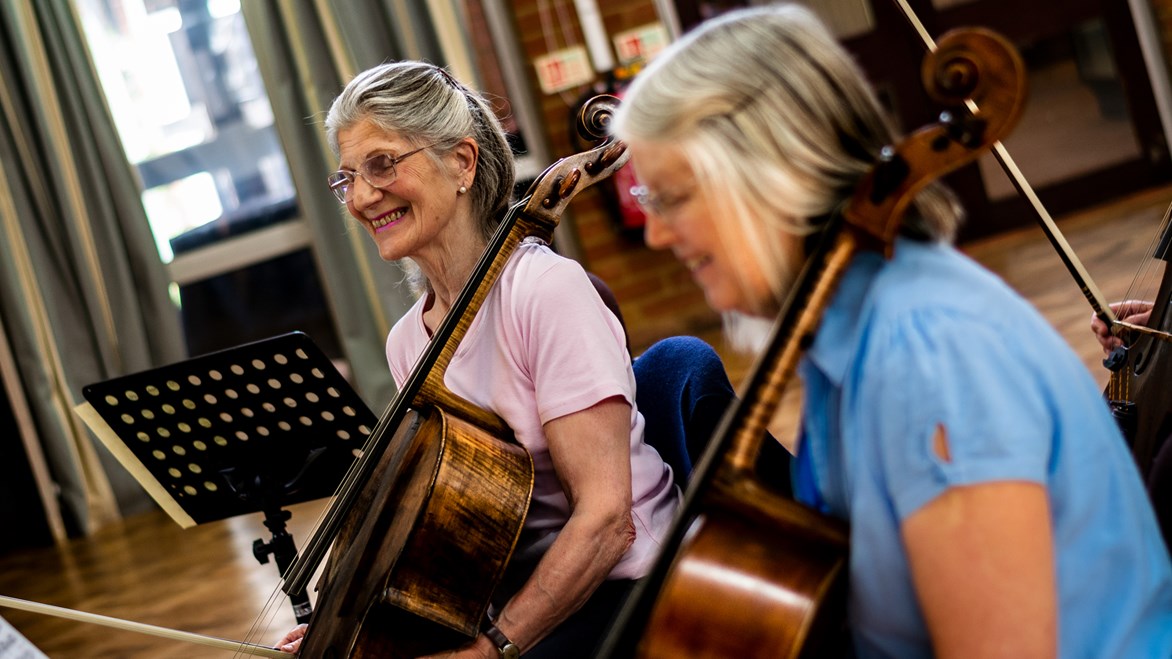 This course offers the opportunity to play a wide range of String Chamber music repertoire, trios, quartets, quintets etc.

STANDARD: SKILFUL

Resident: £480 Non-Resident: £366 (25% off for under 27s) Code: 23/313

Booking for Members opens at 11am on Thursday 1 September 2022.

Non-Member and online booking opens at 11am on Thursday 29 September 2022.

For details on how to become a Member to take advantage of early booking, see here.
What is the course about?
This course is for those who now feel confident playing in string quartets, trios and larger chamber groups. We would like players who have a desire to play more challenging pieces and who have the flexibility to move into different chamber groups over the weekend. Nic and Jenny will choose the music to suit the numbers of players who sign up and if it is appropriate will play within the groups to give a different experience for those taking part.
What will we cover?
A wide range of String Chamber music which will be selected 3 weeks before the course which will be coached by the tutors.
What will we accomplish? By the end of this course you will be able to…
To have played a wide range of chamber music with a different combinations of players for each session.
What level is the course and do I need any particular skills?
This course is suitable for proficient players who are confident in their sight reading and ensemble skills. Violinists generally need to be able to have a go at 1st and 2nd violin parts although the tutors will endeavour to allocate the parts appropriate to the pieces and players.
Experience of playing chamber music or having played in a good amateur orchestra will be useful.
How will the course be taught, and will any preparation be required?
Players will be put into chamber groups from the first evening. Each session thereafter will be a different group with different repertoire although there will be some crossover. Each session will have coaching from the tutors for part of the time.
Although repertoire will be suggested before the course starts there will be opportunities to play other repertoire of your choice.
Will music be provided in advance of the course?
No, participants are required to bring their own music to the course. The set repertoire will be posted here in advance of the course.
What previous participants said about this course…
"Excellent opportunity to play difficult chamber music with like-minded amateurs with supportive coaching."

"A welcome chance to play chamber music one to a part without having to find your own group."

"Absolutely superb - wonderful repertoire."