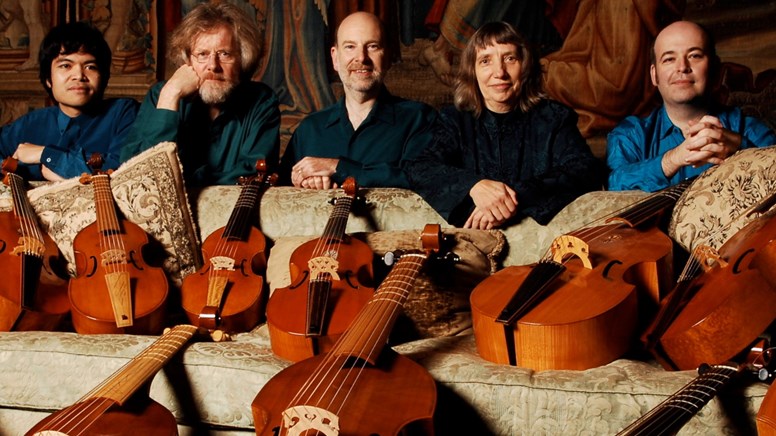 Three days of viol consort playing in a variety of group sizes and exploring some lesser known repertoire in addition to 'old favourites'.

STANDARD: CONFIDENT, SKILFUL

Resident: £520 Non-Resident: £395 (25% off for under 27s) Code: 24/305

Booking for Members opens at 11am on Tuesday 29 August 2023.

Non-Member and online booking opens at 11am on Monday 18 September 2023.

For details on how to become a Member to take advantage of early booking, see here.
What is the course about?
This well-established course is designed for individual applicants and will focus on some of the rich repertoire of sixteenth and seventeenth century viol consort music. The tutors will help develop your playing and listening skills and will explain structure of the music, and how to better articulate it through applying historically appropriate techniques. Applicants should be able to sight-read a range of standard English consort repertoire.
Tutor website: www.alisoncrum.co.uk
What will we cover?
English viol consort music repertoire for 3 to 6 viols. Viol music from other parts of Europe, from the 16th to 18th century. Occasional larger scale sessions, perhaps with voices.
What will we accomplish? By the end of this course you will be able to…
Expand your knowledge of the huge repertoire for viols in consort, and understand the structure of the music better. Learn or improve on some essential viol techniques which should help you make a more beautiful sound. Meet some new players, and adjust your playing to suit each different group.
What level is the course and do I need any particular skills?
Confident, Skilful
This course is for viol players who are already used to playing in consort, well able to get in tune without assistance, and make a good sound. Players should be happy to sight-read most of the standard repertoire, and able to keep going well enough even if a few notes have to be missed, to allow the group to work on the music. Experienced musicians who are fairly new to the viol would also be welcome, as long as they are able to sight-read, as above. Ideally most participants will be able to play more than one size of viol and/or read more than one clef if playing tenor or bass but this is not an absolute requirement.
How will the course be taught, and will any preparation be required?
Most of the sessions will be in small groups of 3 to 6, playing one to a part. Each group will have a tutor for at least half of each session, and sometimes for longer. Occasional sessions will be larger scale with full time tuition. Tutors will rotate between groups, and groups will change twice each day.
There is no specific preparation needed for this course, except to make sure that your instrument(s) is in good playing condition, and able to be tuned quickly.
Will music be provided in advance of the course?
No - music will not be provided or suggested in advance of the course. - sight reading is essential
Some music will be provided by the tutors but participants are also requested to bring their own music, with scores if possible, especially for any pieces they would particularly like to be coached on.
Helpful resources: IMSLP has a wide range of parts and scores. Benslow Library now has a good selection of viol consort music which may be borrowed during the course.
Is there anything I need to bring?
Viols, with spare strings. Some music (as above) unless coming by public transport. A folder or card to put behind single sheets of music. Tuning meter/phone app. Stand lights if eyesight is poor.
What previous participants said about this course…
"Be prepared for a treat playing your chosen music with your friends in a supportive atmosphere!"

"You may be, in turn, excited, nervous, supported, exhilarated, exhausted and, at the end, almost in tears because of not wanting it to finish!"

"A very relaxed, and friendly course, and a great opportunity to play with many different people."

"Excellent musical and sociable way to advance one's playing skills."