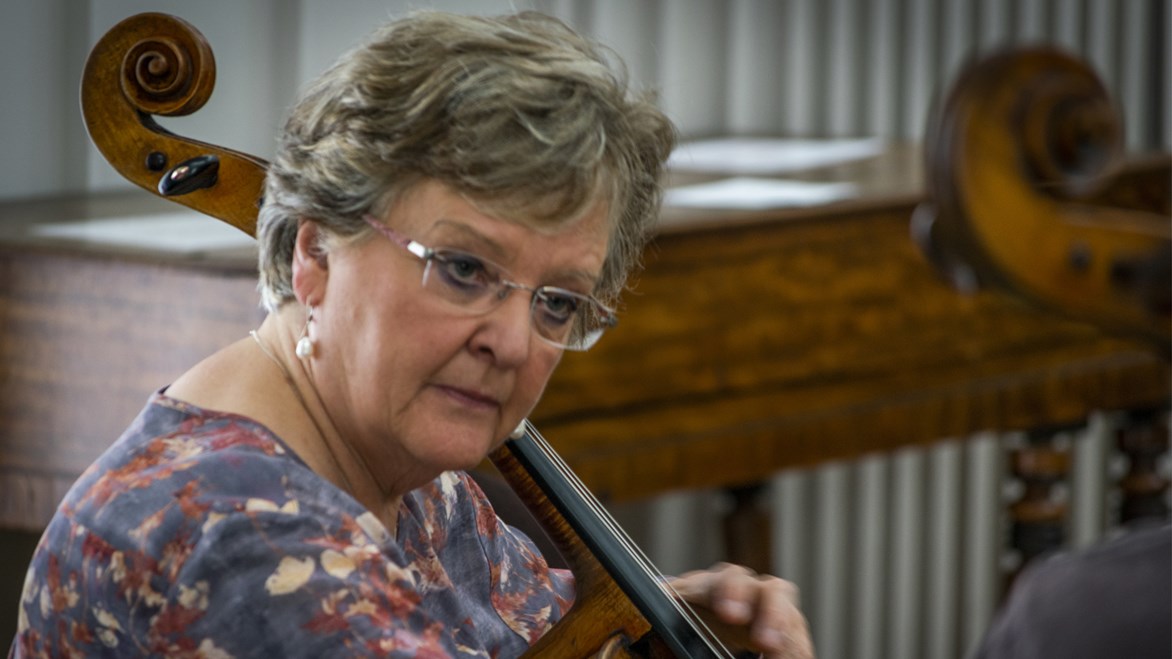 "The course was first mentioned to me by Gillian Thoday herself, to whom I travel down to twice-termly from Cambridge for my cello lessons. Due to the Cambridge Natural Sciences timetable not being overly friendly to those wishing to pursue rigorous cello lessons alongside their degree, I thought that the week-long, concentrated nature of the course would be perfect for someone like myself. In addition, I was particularly drawn to the incredibly generous bursaries available for students in my position, which helped significantly.

So, it came to be that I arrived at Benslow Music in Hitchin, eager but slightly anxious for the week ahead. Any worries were quickly dispelled after meeting Ken at the Reception, who showed me the facilities and to my lovely room (the complimentary Lotus biscuits didn't last long). I particularly enjoyed that evening's meal of beautifully cooked fish, accompanied by fresh vegetables and brilliant company! This set the tone for a culinarily superb week at Benslow Music, which only added to my enjoyment of the music-making.

The structure of the days entailed a 40-minute cello lesson with Gillian and a 45-minute Alexander Technique lesson with Margaret Edis, with a discussion about a particular element of cello technique in the morning, and ensemble opportunities in the evening. In between the sessions, practice was encouraged (and, indeed, facilitated by numerous excellent practice rooms located on site), as was attendance at the regular coffee breaks throughout the day. The week came to a forte with an informal afternoon concert, in which almost all of the ten cellists played something they had been working on. For me, this was one of my favourite parts of the week; not only did I have the opportunity to perform some lovely Franck with our superb accompanist, Daniel Swain, but also to listen to my colleagues (and now friends). Listening to their playing was a pleasure, and there can be no doubt that both Gillian and Margaret were instrumental in orchestrating this.

Of note is the fantastically well-stocked music library at Benslow Music. A particular example of when this came into use was during the ensemble sessions, when a fellow cellist took out Villa-Lobos' Bachianas Brasilieras No 1 for cello ensemble, which we hacked through as best we could!

To conclude, I had a terrific time at Benslow Music. The quality of teaching was unparalleled, and I can feel that my playing and musicianship has improved rather significantly as a result of that week. I would recommend anyone with a love for their instrument who, like myself, may not have much time to practice or have lessons, to consider a course at Benslow Music. Experiences like these are ones which are difficult to forget, and I will certainly be visiting Hitchin's best-kept secret again!"

Nathanael (cello)
If you would be interested in writing a short review/blog about your course to be featured on the Benslow Music Memories page of our website, please email info@benslowmusic.org.