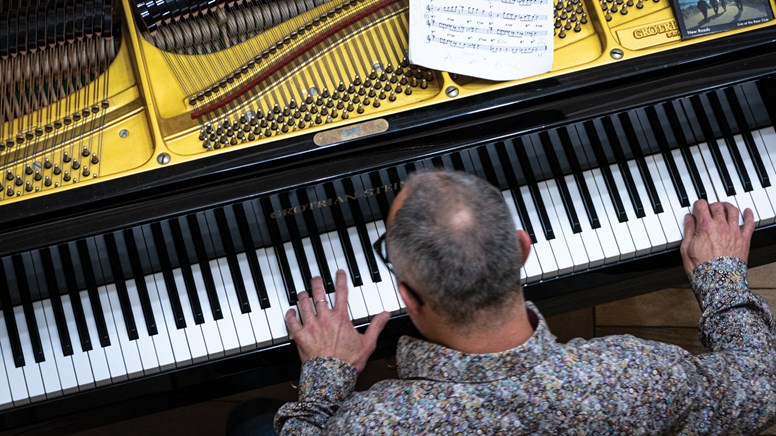 "Marco Marconi is an accomplished, classically-trained Jazz pianist who grew up in Umbria in Italy, and who made a life changing decision to move permanently to the UK in 2012 to pursue his musical career. He made the right choice. His skill as a composer so naturally distinctive and seemingly effortless, he's earned a reputation as a class act on the British festival circuit, the Fazioli Concert Hall in Venice and the buzzing London Jazz Club scene. Marco Marconi and his trio's debut album NORDIK recorded in Venice in 2013, was a collection of eclectic genius and garnered rave reviews." Anthea Redmond Founder JazzBitesRadio.com March 2016.
Born in Umbertide, Italy in 1975, Marco began his musical career as a classical pianist. Studying privately with Mauro Nadir Matteucci, Marco gained his diploma in classical piano at the age of 21 from the Conservatory of Music in Perugia, achieving full marks with honours and distinction. Marco went on to win several piano competitions throughout Italy and in 1998 was a finalist in the annual Competition at "La Fenice", Venice, open only to the top graduates from Italian Music Conservatories and Accademies. Later, Marco continued his studies with Riccardo Risaliti, Professor at the Conservatory G. Verdi in Milan.
Having gained his first diploma in piano, Marco moved on to discover the world of jazz. Using his phenomenal technique and talent, he swiftly became a jazz appassionato, gaining a second diploma in 2005, this time in jazz, under the guidance of Paolo Di Sabatino, again achieving maximum marks. Throughout this time Marco also deepened his knowledge of jazz under the guidance of Ramberto Ciammarughi discovering his own personal sense of style and self-expression, Marco completed his post graduate studies with honours in jazz in 2008.
In August 2013, Marco was signed up by the prestigious Candid Records Jazz label and released his piano solo CD, Mosaico, under this label in spring 2014. In summer 2015, Marco changed label to the renowned 33 Jazz Label and released Nordik, an album recorded with his UK Trio. In March 2017, the trio released Trialogue and in October 2019 New Roads to rave reviews, again with 33 Jazz.
As a composer, Marco spends much of his time writing jazz, which he performs live in concert. In 2009 Marco made his UK debut at the Cheltenham Jazz Fringe Festival performing his own songs and jazz standards, returning to the UK in the autumn of 2011, headlining at the Lancaster Music Festival (UK) in piano solo. In 2010 he recorded his piano solo album titled "Mosaico" at the prestigious Fazioli Concert Hall in Italy. Since moving to the UK in 2012, Marco has toured the Country with his trio and performed in some of the top UK jazz clubs and Festivals including: Pizza Express, Ronnie Scott's, Royal Albert Hall (Sala Verdi), 606 Club, Peggy's Skylight, Parr Jazz, Ashburton Arts Centre, The Bear Club, SoundCellar, Southbank Centre, The Vortex, The Stables, Stratford Jazz, Mill Hill Jazz Club, London Jazz Festival, Cambridge Jazz Festival, Lancaster Music Festival, Cheltenham Fringe Festival and London Jazz Platform. Marco has also performed at Umbria Jazz, Umbria Film Festival, Monterchi Festival, Arezzo Jazz, Festival of Nations, Gubbio No Borders Jazz Festival, Valmarecchia Festival and the Festival dei Saraceni in Italy, Café' Istanbul and Snug Harbor in New Orleans. Both as leader and side man he performed in different formations in Italy, England, France, Luxembourg, Germany, USA.
He previously has worked with: Tom Farmer, Emiliano Caroselli, Fabrizio Bosso, Max Ionata, Paolo Di Sabatino, Claudio Cuseri, Ramberto Ciammarughi, Fabio Zeppetella, Simone Gubbiotti, Ivo Neame, Emma Rawicz, Karen Sharp, Jakub Cywinski, Joel Bardford, Randolph Matthews, Sara Laura Dowling, Lauren Bush, Tina May, Nigel Price, Gareth Lockrane, Simon Spillett, Spike Wells, Enzo Zirilli, Andrea Di Biase, Gilad Atzmon, Tony Kofi, Mark Wade, Brandon Allen, Asaf Sirkis and many others.
Marco originally composed many of his pieces for piano solo but re-arranged them for trio and in 2007 formed the Marco Marconi Trio playing jazz standards and original compositions. Moving to the UK in 2012, Marco reformed his Trio with two outstanding UK artists, Andrea Di Biase on double bass and Enzo Zirilli on drums, touring the UK in Oct 2013 to high critical acclaim and releasing Nordik together on the 33 Jazz label. The Trio reformed in 2015 with Emiliano Caroselli on drums and Tom Farmer on double bass and have released two albums, 'Trialogue' in 2017 and 'New Roads' in 2019, with 33 Jazz which has received rave reviews. In 2019 Marco has recorded "New Roads" live at The Bear Club in Luton with Tom Farmer, Emiliano Caroselli and the incredible Max Ionata as a special guest. New Roads has received stunning appreciation as well as 5 stars reviews by The Guardian, London Jazz News, Jazz In Europe, Jazz Views and The World Of Jazz. In 2022 Marco formed a new exciting Quartet with other three incredible young musicians: Emma Rawicz, Jakub Cywinski and Joel Barford with whom is planning to record an album soon in the future. See Marco performing live in videoclips on his YouTube Channel or listen to some tracks from Mosaico, Nordik, Trialgoue, New Roads and the Trio at Soundcloud.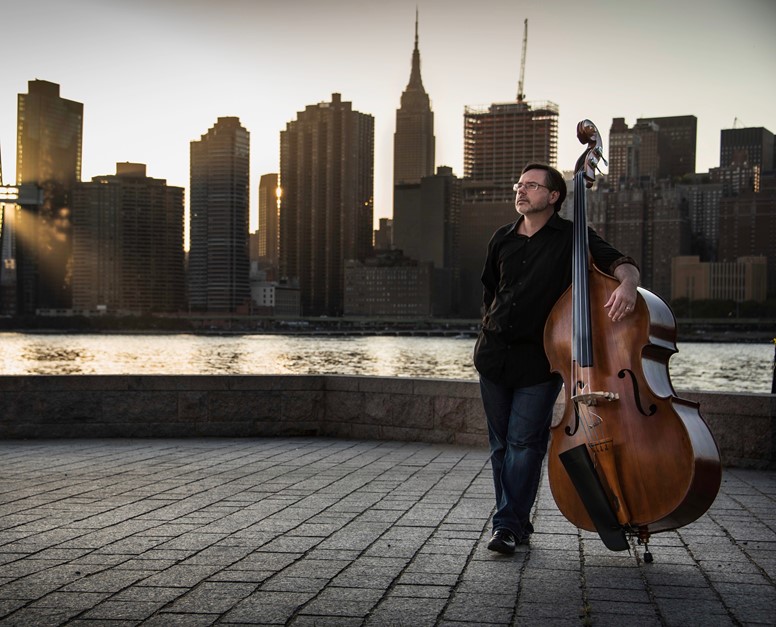 Modern jazz composer and bassist Mark Wade is open to appreciating and co-creating great music in all its forms. Like Keith Jarrett, Wynton Marsalis and Esperanza Spaulding, he's not limited by genre. His fourth album shows the breadth of his musicality and inventive compositional style. Called "a living work of modern art" by Downbeat Magazine, the original tracks found on his 2022 album True Stories were inspired by a wide range of influences, drawing on themes from composers such as Miles Davis, Charles Mingus and Igor Stravinsky.
The result is a unique expression of jazz linking past to present. Wade's critical successes have led to him being a five time finalist for Bassist of the Year in the Downbeat Magazine Reader's Poll. He gained international recognition for his trio with the 2015 recording Event Horizon on Edition 46 Records and the 2018 follow up Moving Day on AMP Music & Records. In 2020 he launched a unique solo project - a visual album. Debuted online from the Centre for Jazz and Popular Music in Durban, South Africa, Songs from Isolation was released worldwide on AMP Music & Records. It features acoustic and electric bass, and the plethora of sounds those instruments can create.
In NYC, Wade has performed at Jazz at Lincoln Center, The Blue Note, The Iridium and Birdland. He is a former artist in residence at Flushing Town Hall and tours in North America and Europe. He has played with jazz notables James Spaulding, Eddie Palmieri, Conrad Herwig, Harry Whitaker, Stacey Kent, Peter Eldridge, Don Byron and Jimmy Heath, and is a member of the Pete McGuinness Jazz Orchestra.
Book Your In-Person Tickets