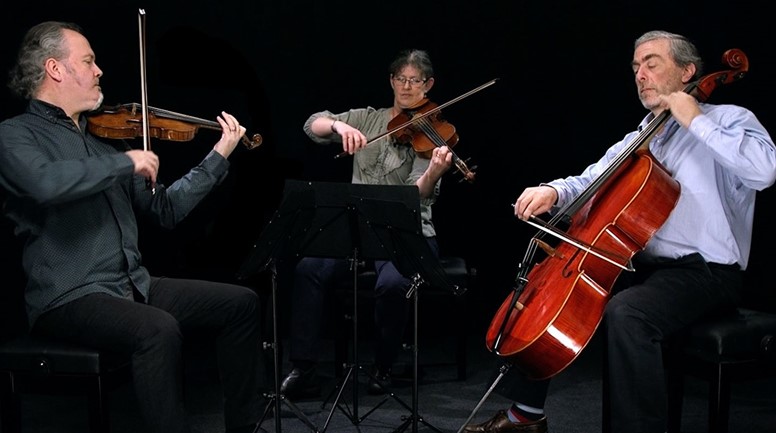 Steve Bingham, Brenda Stewart and James Halsey have been playing chamber music together for over thirty years, mainly within the Bingham String Quartet. As such they have gained an international reputation for their interpretation of classical repertoire and for their fresh and exciting approach to new music. With the Quartet they have toured extensively in the United Kingdom and also performed in Europe, Australia, and the Middle East. Regular appearances in London have included concerts at the Purcell Room and St Martin in the Fields. All three of the members of the trio are experienced educators, having had a busy programme of workshops in schools and music centres, and tutoring on a variety of courses, for many years.
With the Quartet Steve, Brenda and James have made many notable recordings including the middle period quartets of Elizabeth Maconchy, two CDs of the quartet's own commissions from young British composers and a musical version of Dickens' "A Christmas Carol" by Richard Allain, narrated by Richard Stilgoe. Several other albums are also available which include works by Shostakovich, Barber, Haydn and more.
Steve also gives solo recitals on violin and electric violin using live-looping technology, and works with Brenda as "Duos With A Difference", playing an eclectic mix of acoustic and electric pieces. Brenda has taught violin and viola widely, including a ten-year period at the Junior department of the Royal Academy of Music. James give solo recitals, and has played in a variety of chamber ensembles. He is also a professor at the Junior department of the Royal College of Music and teaches regularly at the North East Scotland Music School.
All three members of the trio are also keen naturalists, with Steve's main interest being birds, Brenda's flowers and James' moths!
Programme
Weir The Bagpiper's String Trio (1985)

Alwyn String Trio

Kodaly Intermezzo for String Trio

Beethoven Serenade in D major for String Trio, Op 8
Book Your In-Person Tickets