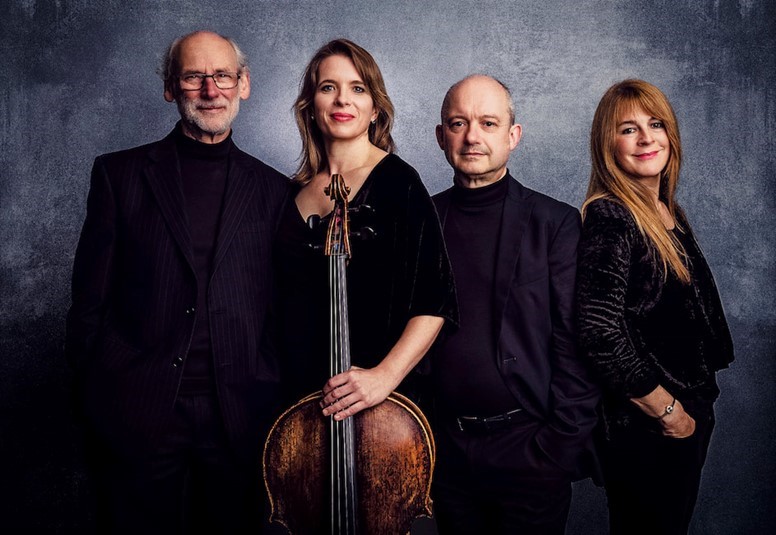 The original members of the Fitzwilliam String Quartet first sat down together, at Fitzwilliam College Cambridge, in October 1968 as undergraduates during their inaugural term. Their first concert appearance took place in Churchill College the following March ahead of their public debut at the Sheffield Arts Festival in June making the Fitzwilliam now one of the longest established string quartets in the world.
International recognition came early for the Fitzwilliam Quartet as the first group to record and perform all fifteen Shostakovich string quartets drawing on the players' personal connection with the composer. Shostakovich travelled to York to hear their performance of his thirteenth quartet, and this musical friendship (the composer's own word!) prospered through correspondence, and the presentation of his final two quartets written in the years immediately following that visit. A new recording of the last three quartets was specially released by Linn in October 2019, to celebrate "FSQ@50" year. Whilst their pre-eminence in the interpretation of Shostakovich has persisted, the authority gained has been put at the service of diverse other composers spanning six centuries, from the mid-16th to the present day.
The quartet has appeared regularly across the UK, Europe, North America, the Middle and Far East, and Southern Africa, as well as making many award winning recordings for Decca, Linn, and Divine Art. A long-term ambition to record Beethoven and Schubert on gut strings following the success of previous discs on historical instruments, was finally initiated during their 50th anniversary season, with recordings of Schubert's last four quartets (the A minor and D minor already available, the C minor and G major their first release post-lockdowns). Thus does the Fitzwilliam remain one of the few prominent quartets to play on older set-ups, yet simultaneously bringing about the addition of over 60 new works to the repertoire as can be heard on perhaps their most novel disc so far: a jazz-fusion collaboration with German saxophonist/composer Uwe Steinmetz and former Turtle Island Quartet violinist Mads Tolling.
After graduating from Cambridge in 1971, they immediately embarked on their first professional appointment, succeeding the celebrated Amadeus Quartet at the University of York. From there, the group built a niche for itself in concert venues around Yorkshire and the rest of the UK, at the same time joining a select company of aspiring quartets to have emerged under the guidance of Sidney Griller at the Royal Academy of Music. Having been quartet-in-residence at York for twelve years, at Warwick for three, at Fitzwilliam from 1998, and at Bucknell Pennsylvania, USA since 1978, their university work now continues at Clare Hall Cambridge, and at St Andrews, the latter incorporating an annual quartet course "Strings in Spring", alongside their regular coaching weekend at Benslow Music in Hitchin.
Programme
J. Strauss Tritsch-Tratsch Polka Op 214

Mozart Quartet in A Major K.464

Schubert Quartet in G Major D.887
Book Your In-Person Tickets