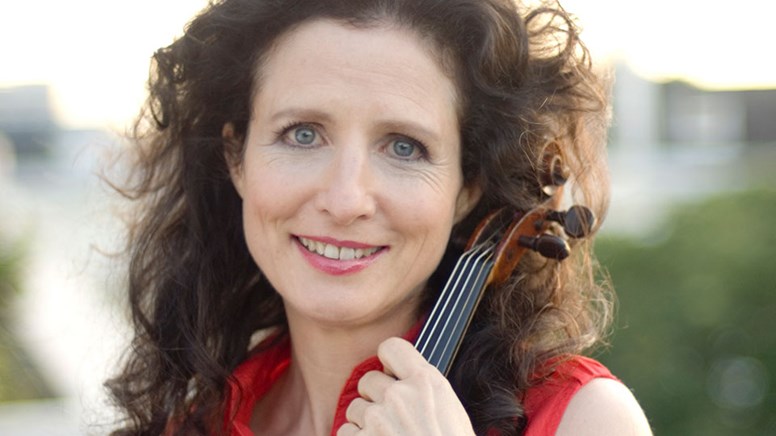 Madeleine Mitchell has been described by The Times as 'one of the UK's liveliest musical forces (and) foremost violinists'. She has performed as solo violinist and chamber musician in 50 countries performing a wide repertoire which is also frequently broadcast on radio and TV and in major festivals including the BBC Proms. Her latest album Violin Conversations, released by Naxos, has received critical acclaim and includes premiere recordings of works mostly by living UK composers including Thea Musgrave the Australian British Wendy Hiscocks and works written for her by Errollyn Wallen, Martin Butler, Richard Blackford, Howard Blake and American composers Douglas Knehans and Kevin Malone.
Madeleine Mitchell has performed concertos with orchestras including the Czech and Polish Radio Symphony, Wurttemberg and Munich Chamber, Kiev Radio/TV, St Petersburg Philharmonic, the Royal Philharmonic and other London orchestras, Welsh Chamber Orchestra, Orchestra de Bahia Brazil and for the BBC, most recently recording live with the BBC National Orchestra of Wales the Grace Williams Violin Concerto for BBC Radio 3 and Vaughan Williams The Lark Ascending. She has been invited to tour Japan, performing Bruch Violin Concerto in Tokyo.
As a recording artist with an acclaimed discography, Madeleine has been nominated for Grammy and BBC Music Awards. Many well known composers have written works specially for her which she's recorded including Sir James MacMillan and Michael Nyman. Her popular albums include Violin Songs and Violin Muse (with Guto Puw Violin Concerto written for her, with BBC NOW conducted by Edwin Outwater) as well as FiddleSticks – with Lou Harrison Violin Concerto with Percussion Orchestra. Mitchell's Naxos album of Grace Williams Chamber Music with her London Chamber Ensemble was no.2 in the Classical Charts. Her recording of the Suite written for her by Robert Saxton, premiered at Three Choirs Festival, with Clare Hammond, was released last year.
Madeleine is known for her creative projects and programming. Her 'Century of Music by UK Women' 1921-2021, for International Women's Day with her London Chamber Ensemble was widely featured in the national media. Last year she won a Royal Philharmonic Society award to make a short film with the V&A Fabergé exhibition and the live concert she curated with the London Chamber Ensemble which she founded.
In recital Madeleine Mitchell represented Britain in the Canberra International Music Festival, UK in NY at Lincoln Center, for the Queen's Jubilee in Rome and 'Great British Week' in Kuwait. She has given recitals at Sydney Opera House, Seoul Center for the Arts – part of a 3 month world tour, in Vienna, Moscow, Singapore as well as Wigmore Hall and London's Southbank Centre.
Amongst many awards, Madeleine won the Tagore Gold Medal as a Foundation Scholar at the Royal College of Music, where she is now a Professor, followed by the prestigious Fulbright/ITT Fellowship to study in New York for a Master's Degree at the Eastman and Juilliard schools. She frequently returns to tour the USA and following standing ovations for her recitals in San Francisco and Texas in January she returns to San Francisco, UCI, Kansas and Boston in October 2023.
A highly creative personality, Madeleine devised the eclectic Red Violin, the first festival celebrating the violin across the arts, Founder Patron Lord Menuhin. She gives master classes worldwide and is on the faculty of www.orfeomusicfestival.com in the Dolomites and www.lmfl.org, performing and teaching.
Programme to include
Frank Violin Sonata
Berlioz Rêverie et Caprice
Pieces from Madeleine's latest album Violin Conversations
Book Your In-Person Tickets