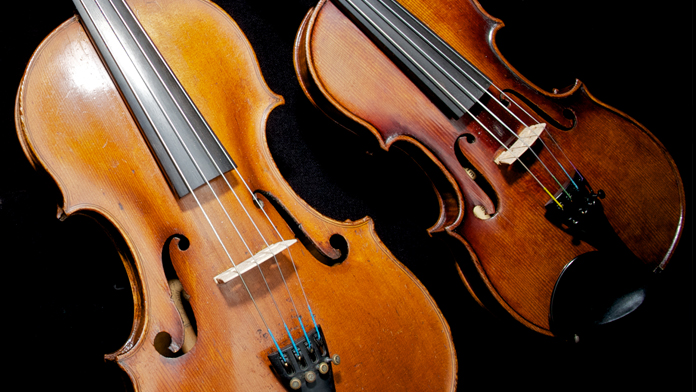 Spring may have been just around the corner, but like everybody I was still suffering from lockdown fatigue, so I was delighted to discover recently that I had been given a place on Brenda Stewart's online Group Quartets course. I had previously attended the residential course in March last year, and had enjoyed it greatly, but then COVID-19 and lockdowns arrived, and the rest, of course, is history.

Despite the limitations of a Zoom setting and the inevitable technical glitches that tend to accompany my somewhat unreliable broadband, I'm happy to report that all went smoothly. After a quick excursion into Audio Settings (helped by the very able Laura), I was soon tuning into Brenda's mellow viola playing some delightful Mozartian inner parts.

I was joined by Adrian, another viola enthusiast, and we felt quite privileged to receive perhaps rather more attention from Brenda than normal, and there were absolutely no distractions! Another advantage of Zoom, as Brenda pointed out, was that no one else could hear us play, so dodgy notes went unnoticed!

After a short but interesting introduction around the classical composers and their innovative use of Baroque traditions, Brenda soon had us practising spiccato bowing, as this featured fairly frequently in the Mozart piece. Her analogy of bouncing a rubber ball worked perfectly for me, and I felt a lot more in control of the bow afterwards.

We then progressed to Haydn, and spent some time dissecting a tricky accompanying passage of about 12 bars, in which Brenda's advice on fingering proved invaluable, even though it did involve the bane of the violist's life – second position! I found Brenda's advice on how to practise it was most effective, and really took the sting out of what seemed at first quite a bewildering array of notes.

Time passed all too quickly, and after a relaxing chat, we reluctantly put down our instruments, said our goodbyes and exited our Zoom screens with hopes expressed that we would meet again soon. It had been a most profitable and pleasurable morning, and time very well spent.

My sincere thanks go to all the Benslow Music tutors, administrative staff and technicians who are working so hard to keep the musical heartbeat alive, and enabling us to go on sharing that very special Benslow Music experience in such difficult circumstances. Let's hope we can meet up for real from May onwards, and make live music resound around Benslow again.

Barbara (viola)
If you would be interested in writing a short review/blog about your course to be featured on the Benslow Music Memories page of our website, please email info@benslowmusic.org.