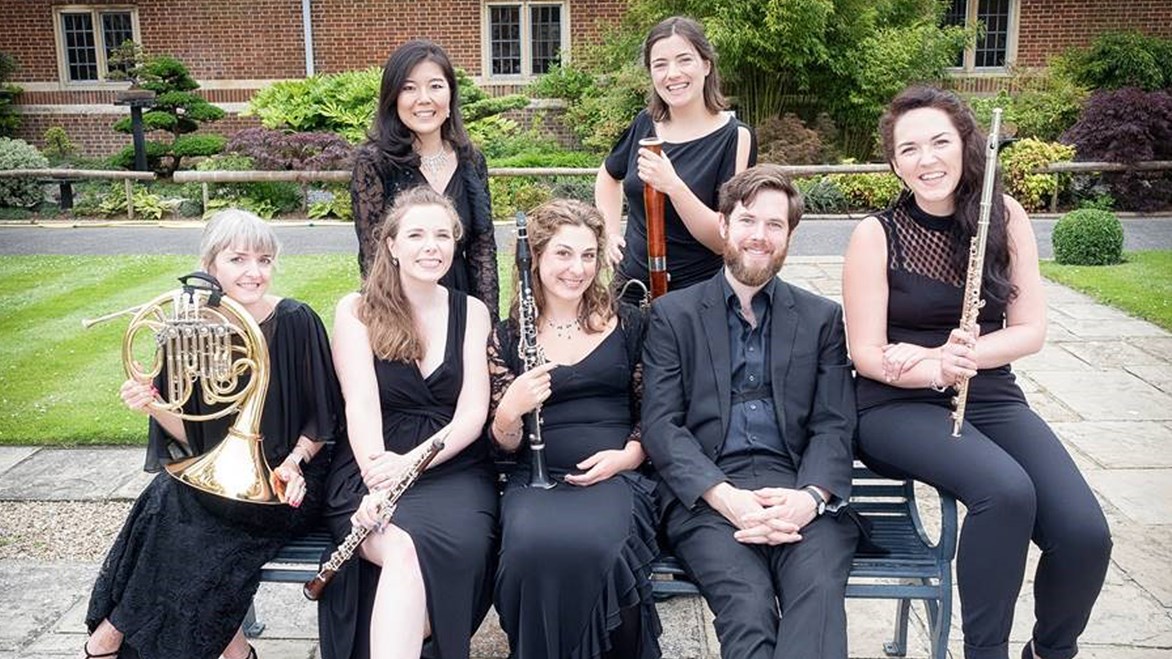 A course for wind chamber groups who already work together regularly and who wish to have some focused time together with a tutor.

STANDARD: CONFIDENT, SKILFUL

Resident: £402 Non-Resident: £292 (25% off for under 27s) Code: 24/238

Booking for Members opens at 11am on Monday 20 November 2023

Non-Member and online booking opens at 11am on Monday 11 December 2023

For details on how to become a Member to take advantage of early booking, see here.
What is the course about?
The London Myriad Ensemble return to Benslow Music with their long-running course designed specifically for pre-formed wind ensembles. Tutors work intensively with each group on a rotational basis to ensure a broad range of input on your chosen repertoire. The aim of this unique course is to capitalise on the way an established group functions, enabling in-depth exploration of the specific ensemble and rehearsal skills that working ensembles encounter. As always, the Myriads offer some optional extras on top of their committed coaching, also offering useful advice on rehearsal technique and performance issues as well as instrument specific advice where required. Applications are welcomed from any configuration of wind or wind and piano ensembles from trios to dectets. Due to popular demand, we are again offering an optional extra day for those groups who are interested in a longer course. If you have any specific requests relating to the rehearsal room that you are assigned for the course, please don't forget to mention this on booking.
Tutor website: www.londonmyriad.com
What will we cover?
Ensemble skills and strategies. We will cover repertoire that you bring with you and that you wish to work on for whatever reason whether it be for a concert or general ongoing rehearsal for group improvement.
What will we accomplish? By the end of this course you will be able to…
Work together better as a group and perform the repertoire with greater aplomb.
What level is the course and do I need any particular skills?
Standard: Confident, Skilful
How will the course be taught, and will any preparation be required?
No written work, entirely practical, hands-on intensive rehearsal and performance.
You may wish to pre-prepare the repertoire you have chosen or to tackle it for the first time while on the course.
Will music be provided in advance of the course?
No, participants are requested to bring their own music. Helpful resources: IMSLP has a wide range of parts and scores. Benslow Music members may be able to hire the music from our library…
Is there anything I need to bring?
Just you and your instrument!
What previous participants said about this course…
"As ever, this course was excellent. The tuition is an excellent standard and the tutors very friendly and encouraging- each bringing something different to the sessions."

"The Myriad tutors getting better each course - each with a distinctive style and perspective which is great for improving the ensemble work which is the principal purpose of this course."

"Fun musically and socially, and we were well fed!"

"I love that this course is for preformed ensembles- and that as a result you can really add polish to a piece you've prepared, not just sight read. I really enjoyed the concert- it felt like over the years the regular groups attending have really improved and the atmosphere was hugely friendly and supportive."