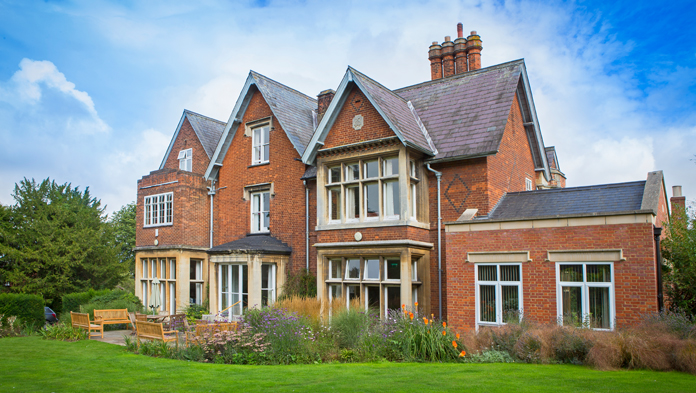 I write this during a second lockdown, recognising the necessity of the restrictions that we're all experiencing and hoping but like all of us hoping for some sort of resolution soon to the pandemic. Realistically that may well be some time off yet, so we have to prepare for that. Those of us still working on site at Benslow Music are keeping spirits up as we approach the Christmas period and continue to plan for all sorts of musical possibilities for you in the New Year. I am deeply grateful to colleagues for all they're doing. We greatly hope we shall be able to welcome you back very soon, dear readers. Business-wise we continue to do all we can to ensure the survival of Benslow Music. Musically and socially there all sorts of things in store which I trust will attract, as described elsewhere in this edition (huge thanks to Chris for putting Buzz together, for all he's doing and has done to keep music alive here).
There are rays of light. Some such have been the recent livestreamed concerts from the Peter Morrison Hall. I, with many others who joined us virtually, greatly enjoyed Madeleine Mitchell and Nigel Clayton's violin sonata programme and found Leah Stuttard's Troubadour repertoire unexpectedly mesmerising and beautifully presented – wonderful stuff! The audio and visual quality is impressive. Many thanks to Chris and Paul Arnold for masterminding these, to the Coull's for initiating the series, kind donors too for enabling us to purchase our own technical equipment thus ensuring there will be lots more such goodies to come.
Don't miss BMT Vice-President Melvyn Tan's piano recital on Sunday, sure to be hugely colourful and deeply musical, nor Symphonia Academica with oboist Rebecca Wood (whose sisters were students of mine at JRCM, all three superb musicians), the Bingham Quartet with Nigel Clayton (a lovely programme ending with the gorgeous Schumann Quintet), the Tedesca Quartet's double helping in one evening of Haydn (x2), Pärt, Beethoven and Smetana (wow, what a feast to look forward to), Liz Walker's limpidly lovely solo flute playing of all 12 Telemann Fantasias, local singer Emma Lewis with Tom Nichol in a super seasonal selection, and not least the Four Winds saxophone Quartet again sparkling with winter pleasure (and featuring our friendly tech adviser Paul Arnold). More detail is available on our website of course.
We're so glad that these wonderful musicians are so willing to share their expertise for our pleasure.
Online performances don't, can't, replace the real thing but there is plenty in this series for each of us to enjoy and entertain so do please join us, encourage others to join in too, and remember that signing up for the concerts both supports Benslow Music and the musicians involved at a time when we all need that so much. In the same way our online courses offer so much to those involved – it's been great to welcome participants, both those familiar to us and those new to the Benslow Music Experience. New models are being trialled so If you've not hitherto joined in do take the plunge!
Warmest congratulations to BMT Hon Vice-President, a former Chairman of BMT Trustees and Governor of our Instrument Loan Scheme, Jean Harris on reaching her 100th birthday last weekend. Her friend Janet Nunn kindly arranged a Zoom 'party' attended by at least three dozen friends, family and former neighbours with her care home staff who were able to explain what was going on and to help with opening the card from HM The Queen.
I am pleased to say that things continue positively for our wonderful Instrument Loan Scheme. This resource is so very valuable to young musicians, their parents and teachers: we are fortunate in having such a large collection of fine (mainly string) instruments, which thanks to donors and loaners are available at very reasonable rates. All of us know how helpful it is to have good sounding, responsive, quality instruments at our disposal. It is especially so for those less able to afford to acquire such. Do please help us to spread word of the Scheme by every means at your disposal, through music hubs, schools, friends and family networks, acquaintances, social media, I would add local competitive festivals too if such weren't all suspended pro tem, thus helping to encourage new generations of performers. The Scheme is open for the return and trial of instruments in their spacious new building, with a full list of appointments in the coming weeks (travel allowing). It's worth adding that during this time when so many such workshops are closed, Marco is available for repairs, bow re-hairs, instrument cleaning and set-up, both in Hitchin and Milton Keynes, so don't hesitate to get in touch if you need his services.
Throughout this crisis we have tried to keep course plans alive, though many have had to be cancelled or postponed. Great thanks indeed to all of you who have so generously transferred course fees to our Keep Music at Benslow Alive appeal or who have donated directly to that campaign. The total as of last week, including Gift Aid, new memberships etc, stands at just under £227k (so rather more than appears on the JustGiving site). Can we push that figure to the £quarter million mark? The fund remains open so I hope we can!
Wishing you all well and sending all strength in these increasingly trying times, hoping that you are continuing to make, to be involved with and to enjoy music in some form. It's a great solace.
Peter Hewitt, Chief Executive