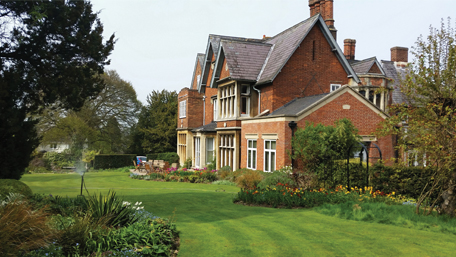 Keep Music at Benslow Music Alive Appeal
You can imagine how thrilled I was to receive a message a short while ago saying that, having read that we were getting so close to our £200,000 target, the writer (I respect the wish for anonymity) wanted to make up the difference. What a generous and wonderful gesture! Following a tremendously positive phone conversation the mechanism for a five-figure donation has been put in place and, whilst these funds have not yet actually been received, I am confident that by the time this is published we will have exceeded the hoped-for total. To have achieved our target in just three months is tremendous.
Thank you to everyone who has been so very supportive of our appeal. My, our, gratitude to all who have donated small and larger amounts alike, sometimes several times over, knows no bounds. Your most kind gifts place us in a much stronger position than would otherwise have been the case. With your help we move forward with much greater confidence into the autumn, with good fortune into 2021 too.
Benslow Music has proved resilient and will survive. But we, like the country, the rest of the world, are not out of the woods yet. So the appeal remains open and your continued assistance is sought: can you perhaps help to sponsor livestreaming equipment and training (see page 5), some £6k?
The Way Ahead
We have not yet heard of the outcome of our application to the Cultural Recovery Fund and other grant-giving bodies. Fingers are firmly crossed. Other applications will continue to be made.
At the time of writing the courses and concerts at Benslow Music which Chris and his no less admirable colleagues have put in place (see our website for details) are able to remain in place, and we greatly look forward to you returning. You can do so with (ever-careful) confidence since we have such sensible, approved, distancing and hygiene protocols in place. Like the music team, Tim and his house and catering teams continue to work well above and beyond previous norms to make everyone comfortable and safe. We are doing everything possible to mitigate risks, to enable the functioning of activities which mean so much to so
many and to keep Benslow Music COVID-secure.
The responsibility for keeping things going lies not only with staff but with our visitors too. So far, those attending courses and concerts have expressed admiration for the level of care shown and have themselves acted most sensitively and sensibly (of course) in conforming to guidance. Tutors have been adept in handling the challenges too and their courses, residential and online, have been appreciated with much enthusiasm. But we all have to be conscious of each other's space, the wider uncertainties ahead too.
We are apprehensive of the possible imposition of lockdown measures and other restrictions. Currently we are still only able to operate at well below previous capacity so generated income will not balance expenditure for some time. A shutdown would be devastating. As previously reported we have had to consider carefully a number of operational scenarios. We will not be able to bring back every staff member from furlough so the reluctant decision was taken to make five posts redundant. Efficiencies in the way we operate will continue to
be made, without I hope seriously affecting the quality of service we provide.
Concerts
Tim Ridout's concert (indoors), with Tims Crawford and Posner was absolutely outstanding – if you haven't heard him/them, do; the Saxophone Quartet's Garden Prom was super too (against a fabulous sunset); the Moonrakers folk Prom also delightful. Thank you to the musicians, to the happy audiences too - the delight in music-making on both sides of the podium was palpable. A no less terrific series of concerts, given by top, very special performers is scheduled this autumn, frequently using the model of two performances in one day – see page 4 and do please come if you can.
Governance
With Catherine Steel's emigration to Canada there is a vacancy for the Hon Treasurer's post on Benslow Music's Board of Trustees (Council). If you are aware of anyone suitably qualified who might be interested please contact me, indeed should you know of someone wishing to be considered as a trustee, now is the time to make an approach. The trust is hugely grateful to Catherine for her forthright and perceptive guidance over the last years and wish her and Robin great good fortune in their new life.
Peter Hewitt, Chief Executive