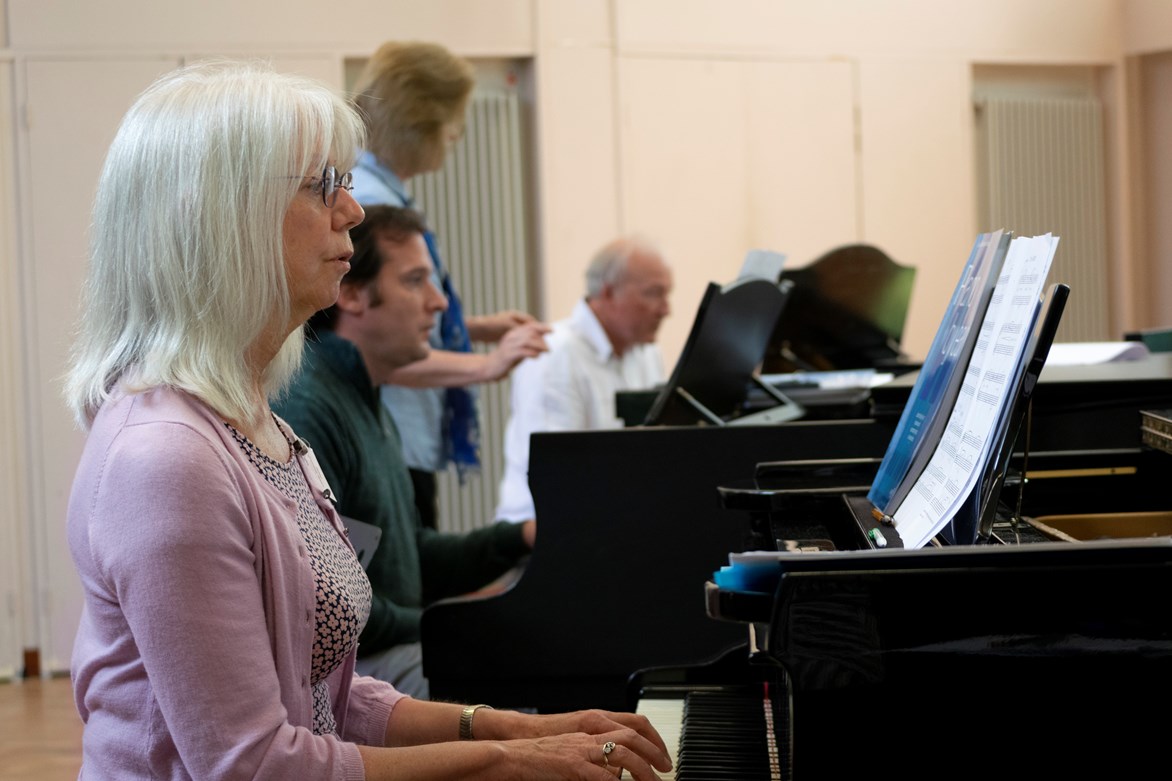 Heartfelt thanks to everyone who has so far contributed so generously and swiftly to our Keep Music at Benslow Alive appeal. It's terrific that we've reached the half way mark within a week of launching the campaign, a combination of gifts via JustGiving, direct donations and Gift Aid. I'm so grateful on behalf of all who love Benslow Music and all it stands for. We're enormously encouraged by your help and cautiously optimistic for the future.
At the time of writing we are applying for such grant aid as may be available from Foundations and other sources and await details of Government's promised support for the Arts in the hope that we may be eligible for that (application for such support is a major task itself). We have applied for loans too which should help to sustain us a little longer still, but of course any such will have to be paid back in due course. But we are under no illusion that achieving the second half of our target is going to be hard and any help you can give, whether personally, indirectly or by spreading word will be appreciated*.
There is much uncertainty ahead still and the road is risky. That said, and as Chris points out overleaf, we are thinking positively and inventively, trialling residential courses and have re-introduced Bed and Breakfast provision. Online courses, which have been wonderfully well received, look certain to expand and develop in
fresh ways. The plan is that gradually we can expand all this activity during the summer and through the autumn until such time as income generated can balance expenditure, factoring in always guest safety and satisfaction and staffing costs.
At present we are a skeleton staff crew – and I can't express how much I admire and am grateful for the
superhuman efforts being put in by colleagues to keep us afloat and in planning – all multi-tasking and sharing all sorts of less-than-familiar duties. As and when we can we hope to bring colleagues back off furlough, partially or fully, though of course at that point we have to bear the costs. It's a delicate balancing act and much depends on the progress of the pandemic, proceeding carefully and safely and on everyone's growing confidence.
The pilot Later Starter Piano course led by Lucinda Mackworth-Young recently was both well received and instructive for us. We were delighted that our carefully revised protocols seemed to work well. Participants relished the opportunity to be back here, to receive such excellent live instruction (at appropriate distance) and to be so well looked after. In a great example of staff multi-tasking, Tim (Director of Operations) was chef (and laundry master), Karen (Finance Officer), Alison (General Manager, Instrument Loan Scheme), Clare (Finance Officer, BMILS) shared the table-waiting, Jo (Event and Sales Coordinator) prepared rooms, I wiped
surfaces, Chris and Laura (Head of Music and Music Administrator) checked in guests, ensured pianos were suitably sanitised - the while facilitating online courses and future bookings, all a wonderful team effort. It's a good start. We so much look forward to welcoming more of you back as soon as it proves feasible for you.
*Nicolette Whitaker has started a Camino de Santiago virtual Challenge for our benefit through JustGivingwhich I commend to you (http://www.justgiving.com/Nicolette-Whitaker) – thank you Nicci.
Some sad news: tutor Oliver Davies who for many years supported the Benslow Summer WindFest has died. A fine musician whose sight reading and accompaniment skills, his genral erudition too, were greatly appreciated by participants, he founded the Department of Portraits and Performance History at RCM (his alma mater)
where he was a professor, was Keeper of the Portraits at the Royal Society of Musicians and latterly curator of the Museum of Music History. His is much missed.
We are also sorry to read that Gustav Clarkson, distinguished violist and scholar of authentic string performance in the Romantic era, formerly of the Coull Quartet (2004-10) and well-loved as a tutor at
Benslow Music, has also died recently.
Peter Hewitt, Chief Executive