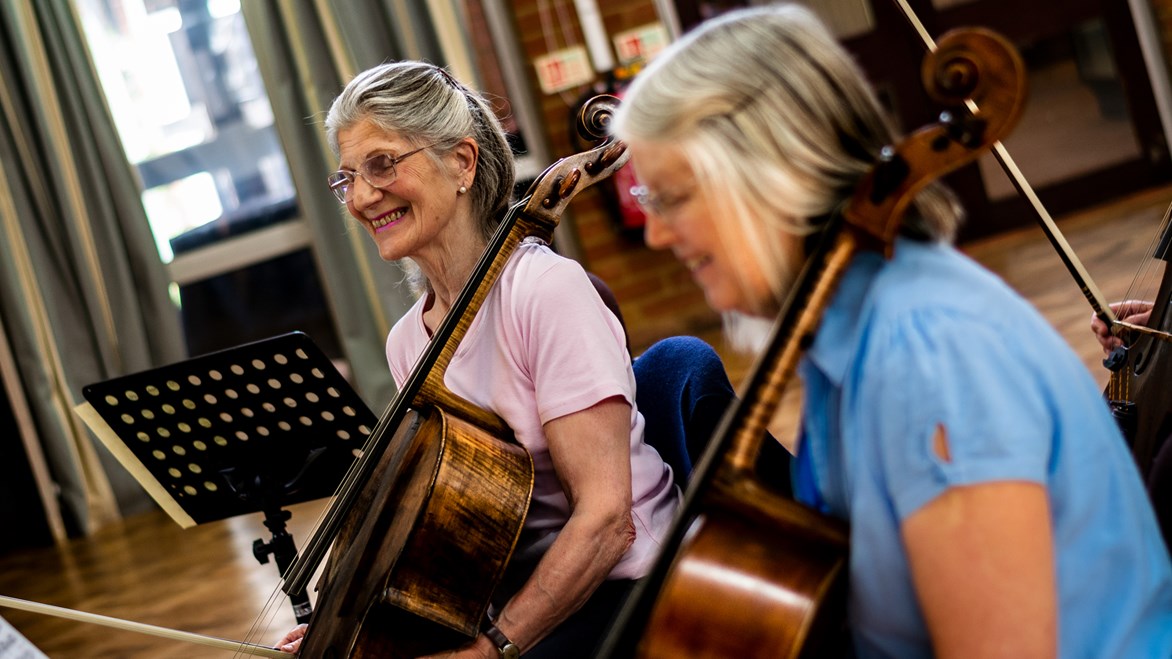 BMTs first priority is the Music, of course. Courses here this year have started positively with much excitement, enjoyment and fulfilment (both from participants and tutors' perspectives). Aren't we fortunate to have such expert guidance from tutors, with such good company amongst all our visitors too? We have already had public concerts in both the Friends and our evening series, with Charlotte Walker and Sally Birkett giving a most enjoyable afternoon cello and piano recital, and Hazel Askew and Laurel Swift, with Barry Goodman as caller, playing for a lively Ceilidh during their course. A Murder Mystery dinner, capably masterminded by MurderNights.com attracted over 40 guests, and there was an absolutely outstanding recital given at St Paul's Walden Bury by international artists Alexander Chaushian (cello) and Ashley Wass (piano).
This latter was, for me and others there, one of those exceptionally uplifting evenings which occur all too rarely. Wonderful music (Brahms, Prokofiev, Franck and Rachmaninov) played with amazing artistry in a beautiful intimate setting – no matter how jaded one may have felt on a cold, damp January Sunday evening, this was real food for the soul. I, we, are enormously grateful to the performers and especially to the Bowes Lyon family for directing the proceeds to the benefit of Benslow Music, a generous donation indeed.
Visitors have remarked on the new building for the Instrument Loan Scheme. This exciting project is nearing completion internally, is looking good and will enable careful expansion of the invaluable service to young musicians it provides, access to the in-house luthier for course members too. Work on landscaping and pathways (to include wheelchair access), trenches for utilities, parking spaces and access for emergency vehicles too will have started by the time you read this. Please note that as a consequence, and for about six weeks, there will be no access to Fieldfares or car park via the gate by the Lavender Tower in the Waldeck courtyard. Guests should proceed carefully along the drive to and from Fieldfares so drivers please be extra vigilant. I am grateful for your understanding. Andf you feel you can contribute to the Scheme's Raise the Roof campaign (click here) I encourage you to do so.
Bookings for courses this year have started strongly, and opens for non-members this week. Do take advantage of Chris's admirably attractive programme if you can. Staff will deal with you as swiftly as they are able. It's worth pointing out that a new VOIP phone system is to enable call queuing (and include call parking while not losing one's place) at least by the next booking round so, we trust, improving the overall booking experience.
Donations, such as those mentioned above, and indeed legacies are of enormous assistance to us. If, as I hope, you feel well disposed to our work please consider making a gift to Benslow Music Trust in your Will. I, or our Hon Sec Mark Bowen (Bowen Dawes Solicitors, Hitchin), would be happy to provide guidance.
Peter Hewitt, Chief Executive