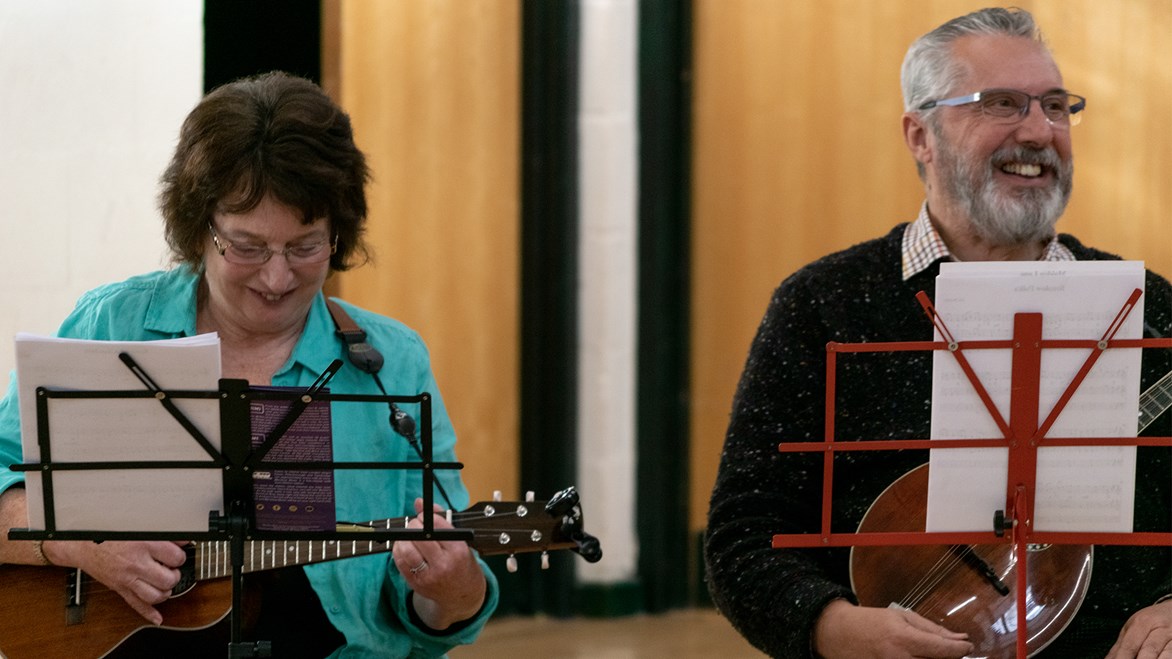 "Learning and playing the mandolin can be or at least feel like a solitary pursuit so the first response of so many of us when we gather for one of Matt Norman's Benslow Music courses for mandolin is the joy of coming together to share something we love to do – play our mandolins. This may seem a little odd to friends in music who are more accustomed to playing in groups or ensembles but a recurring topic of conversion on Matt's excellent course is – 'have you found other mandolinists to play with?'

Which brings me to Matt's opening session on Friday 30 August of the weekend course – he gave us a lecture on the history of the mandolin illustrated with appropriate music. Matt likes to experiment, and this was a first for those of us who are regular course participants. We learned that the modern mandolin can be traced to the Oud which originated in Persia. The modern classical form or bowlback mandolin emerged in Naples during the late 17th and 18th centuries during what Matt called the first 'golden age' of Mandolin followed by the second 'golden age' during the Edwardian era when mandolin orchestras were popular. Variants of the flatback mandolins emerged separately in Europe and the USA. The need for a 'bigger' sound as audiences grew with urbanisation was a major driver in the mandolin's evolution from its origins on the plains of modern-day Iran.

All of which wetted our appetite for playing together. Regulars on Matt's course noticed that he had set the bar a little higher than on previous courses with a 'classical' repertoire including pieces written especially for the mandolin by Becucci, Branzoli, Fouchetti and Riggieri. We also enjoyed more 'popular' pieces including 'London' from the Ashover Manuscript from 1792. As often before we started our first session by warming up with 'Welcome to Benslow' composed by Matt, himself. Most pieces had a first and second mandolin part and some a third scored for the Mandola – a deeper sounding sibling of the mandolin.

Matt took us through each piece slowly so that we could 'get the notes under our fingers' before attempting the desired performance tempo. Mandolins reward precision before speed!

While we all had different musical backgrounds, Matt worked hard to nurture each individual member of the course – even writing parts overnight to enable someone to participate. In addition to playing repertoire Matt helped us develop our technique from holding the plectrum to shifting positions along the fingerboard. Whatever level we joined the course, we all had the opportunity to learn and to leave with something new.

I'm signing up for next year as soon as the brochure is published."

Peter (mandolin)
If you would be interested in writing a short review/blog about your course to be featured on the Benslow Music Memories page of our website, please email info@benslowmusic.org.