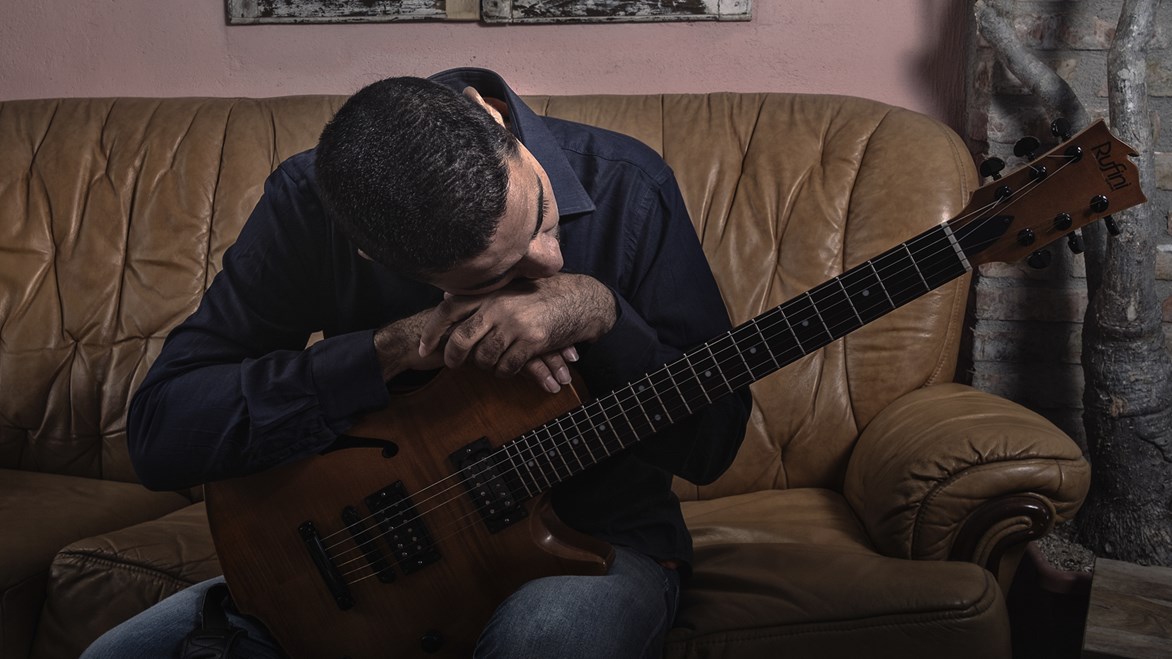 "I spent a couple of days and nights at Benslow Music, Hitchin on a jazz guitar course hosted by tutor, Simone Gubbiotti, who is an excellent contemporary (not mainstream) jazz guitarist and generally an all-round nice person to know.

Interestingly, he is an ex-pro footballer who injured his knee and had to make a decision about what to do next in life - and he decided on jazz guitar. He has reached an extremely high standard in a relatively short period of time. Over the two days I picked up a lot of tips on how to improve my playing including practising repeated combinations of crotchets, quavers, triplets and semi-quavers, playing sixteenth notes across the two strings, playing louder (plucking harder), playing more confidently outside the key, not over-playing - and all to a metronome of course.

To put it much too simply, his approach is of the "chord tone+enclosure" style though in reality he has a very sophisticated style of playing and is capable of playing using a huge range of techniques. More importantly, he stresses that the timing of the notes is all important. Even in the evening concert on Tuesday, with Marco Marconi on piano, he occasionally played one note solos. Other tips I gathered from Simone included arpeggiating chords up to 13th, and plucking in the direction of travel e.g. down up down - down up down when playing three notes per string. Simone gave me several other tips all of which are going to have a lasting effect on my abilities as a jazz guitarist.

Very importantly he spotted a weakness in my right hand technique and gave me a specific exercise to help remedy this. This personal treatment showed that he cared about his students. He also inspired me so much so that I have been playing in every spare moment I have had since returning home. For this reason alone this course was extremely worthwhile."

David Warren (guitar)
If you would be interested in writing a short review/blog about your course to be featured on the Benslow Music Memories page of our website, please email info@benslowmusic.org.