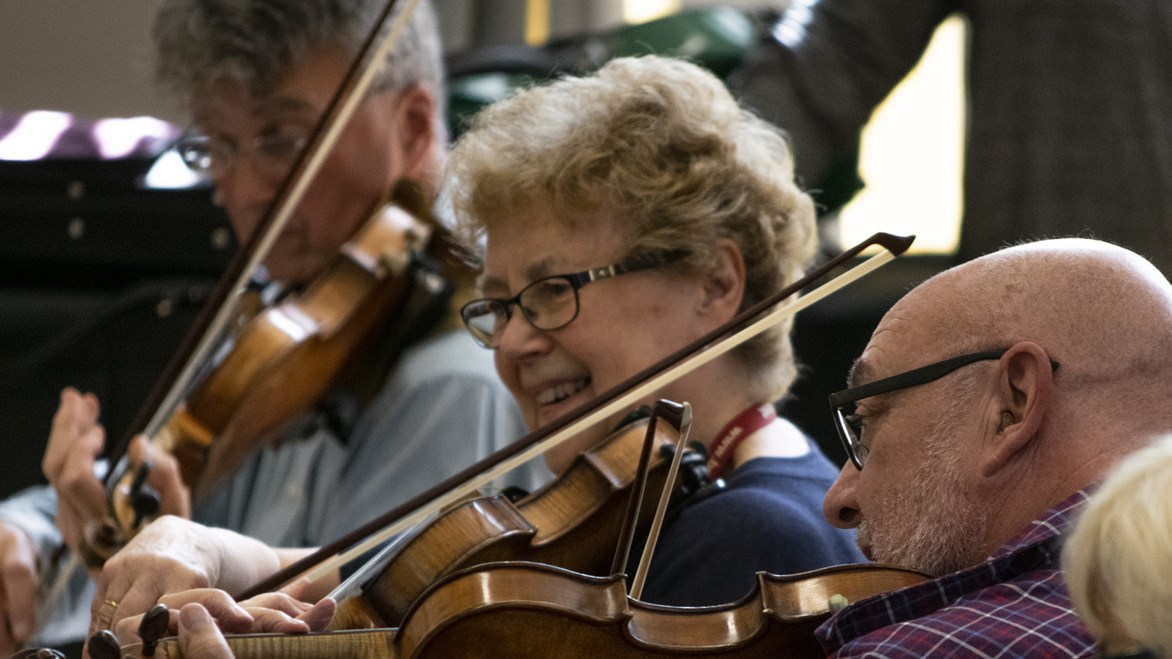 We're delighted that at the AGM on 29 June Colin Bates was elected as a new trustee. A brief biog was sent to BMT members prior to that meeting. Suffice it to say here that as a violinist and choral singer he brings a keen interest in all things Benslow Music related and a medic's attention to detail as well as to wider issues. His addition enhances an already active board at a time when such help is needed and much valued.
I mentioned at the end of that meeting an email from a course member who'd enjoyed a particularly stimulating new course.
Explaining that 'this was one of the best things I've been to at Benslow Music' the writer added 'The tutors were brilliant in every way, slid us out of our comfort zones and into a different mindset without our feeling guilty. The concert was totally exhilarating, inspiring, and truly interesting. The feedback form sought detailed comments on other aspects (too) of a weekend at the splendid Planet Benslow (but) I'll finish by saying that I find the catering astonishingly good and that I think the staff are all lovely.'
These words sum up what so many of our visitors, our guests, our friends, feel. This is a great tribute to our staff, and is very much in the tradition of Mary Ibberson and her successors, something we strive to build on for the next phase in Benslow Music's existence. Music is indeed here to challenge as well as to comfort us. We shall continue to provide the new, the different approaches, as well as that which is familiar as we look ahead to the future. Chris Roberts and his team do this splendidly well, as you'll have seen from the excellent new brochure for Jan-July 2020 – book now! Tim and Liz, our Director of Operations and House Manager, with their teams ensure that facilities here and guest's physical well-being needs are looked after so well. The Finance team keep us all on the straight and narrow. The staff of the Instrument Loan Scheme continue to give enormous assistance to the many young musicians who enjoy the fine instruments we can provide, all the more so with the exciting new building being constructed beside Fieldfares (which is coming on apace, funded entirely by two significant donations to the Scheme).
That said, our very existence depends on the support and goodwill of you, our members and their Trustee representatives, of all course participants. We are determined in these, and despite these, uncertain times that Benslow Music will continue to thrive. We do have to find ways to generate greater income, to raise funds, to improve our facilities, to spread word of our activities, to declare ever more boldly the value of what we do so well already for so many. Only with the help of all our members and well-wishers, will we continue to flourish locally, regionally, nationally and internationally.
A significant practical first step for us would be to ensure at least one new participant on each and every course so I urge all who read this to encourage someone new to Benslow Music to enrol on a course now. Please do continue to spread (persuasive) word and so ensure that similar happens every year. That would make a great difference in helping to ensure that what we do can be secure for the next phase of our existence.
Long-case clock: We are most to grateful to member Sue Paget for the restoration of a mantel clock and the donation of the fine long-case clock currently situated in the bar (a timely reference point for break times?). It is an elegant addition to the furnishings, and has a quartz rather than mechanical action – the original works being long gone. Should anyone be interested in acquiring a long-case clock, Sue has 13 others in various stages of restoration, some with the original movements and some fitted with a new quartz movement. They are all looking for a home, she says!
Peter Hewitt, Chief Executive