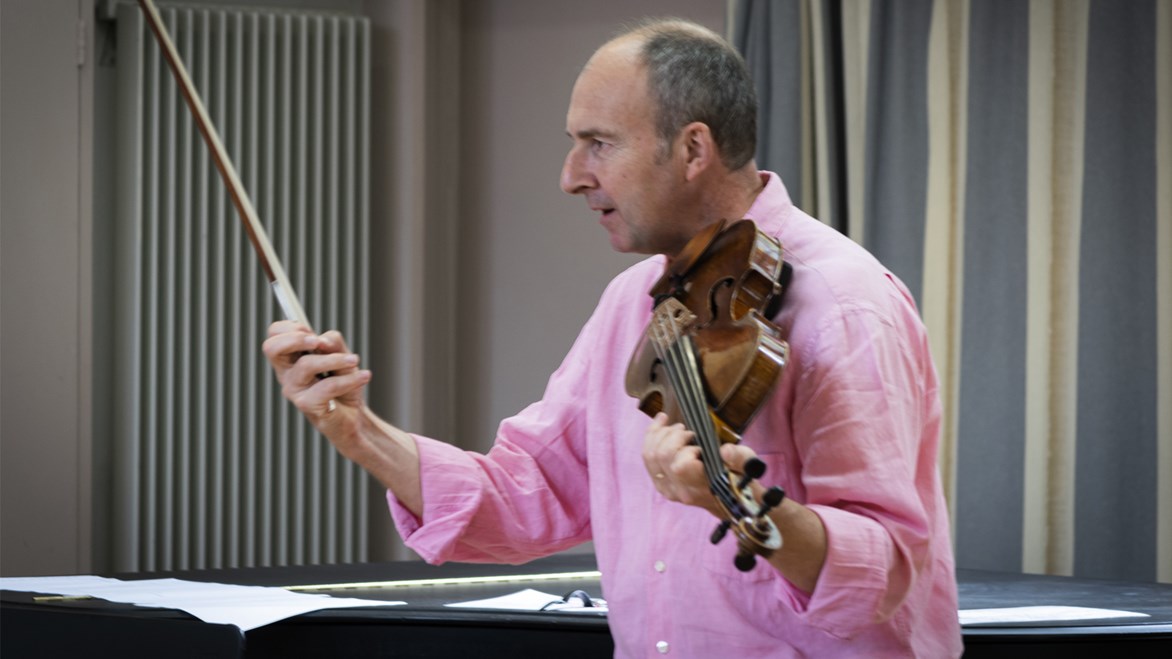 "To visit Benslow Music is always a delight, not only for the wonderful music making but also for the ambiance of the place, the gardens, the food and the delightful company. Nine of us attended the viola course, and in the evenings in the large hall we enjoyed a variety of ensemble playing, and 'Millennium Farfares' that I had written in the hope of hearing. One evening we were joined by the composition students to try out their pieces.

Martin Outram was always most instructive and encouraging, and the group were friendly and appreciative, we could sit in and learn from other lessons. Each day we each had individual tuition on our chosen repertoire and technique, later being joined by Julian Rolton for his exemplary piano contributions. He and Martin gave us a splendid short recital of works by Vaughan Williams and Brahms. Before bed we watched a DVD, of famous inspirational practitioners like Primrose and Zukerman.

Added benefits of the course were contributions from Martin's wife Melanie on the importance of Breathing and from Nicolette Moonen's excellent masterclass on Baroque practice and interpretation. The highlight was the final day concert where we all contributed with our chosen pieces."

Geoffrey (viola)

"The Martin Outram viola course was truly an enjoyable experience. The week was a lovely balance between solo playing and practice, chamber music ensembles and socialising. The lessons were the most enjoyable part of the week, not just my own but sitting in on others, Martin's teaching was incredibly insightful and his attention to detail whether it was technique, or the musical message was very enlightening. I felt that I understood a lot more from my own lessons by watching him instruct others with often the same message but through different perspectives.

The introduction of Julian Roltan as an accompanist really added to Martin's teaching giving full insight to the music's true intention. One of the most insightful days was when Nicolette Moonen, a baroque violinist/violist from the Royal Academy of Music and The Bach Players, joined us, she really opened up my eyes to how open Bach is and how important the original manuscripts are in relation to understanding the true meaning of the music and creating your own interpretation. Each night was closed with a drink at the bar and a screening of documentaries on violists and composers. A true viola enthusiasts' course!"

Cian (viola)
If you would be interested in writing a short review/blog about your course to be featured on the Benslow Music Memories page of our website, please email info@benslowmusic.org.