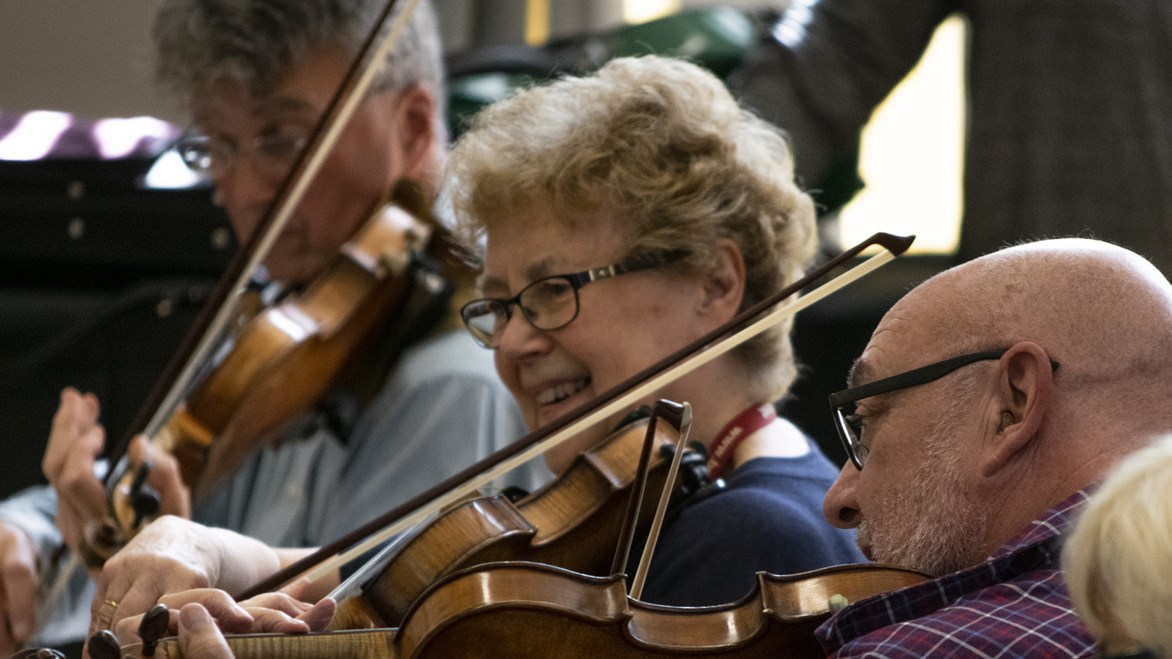 "In June I went on the Benslow Music Chamber Orchestra course with Richard Dickins (conductor), Miles Golding (strings) and Anthony Robson (wind). It was my second time.

We worked on Schubert 2 and Mendelssohn's Hebrides. My main instrument is flute but because I've developed shoulder problems I can't do as much as I would like to and a few years ago I started dabbling with some percussion. I then was lucky enough to be given the opportunity to try timpani and that was love at first sight! When playing flute I mainly worried about my own part and occasionally took note of the oboe and clarinet. But now that I'm looking at the piece from the bottom as it were, I've realised there's a lot more going on. I now connect with the bassoons, the trumpets and the double basses. There are long periods in which I have "nothing" to do other than counting. And not just 11 bars, no more like 87 or sometimes even over a 100 and that's when I run out of fingers completely! Playing timps has improved my general musicianship and my counting (although some people may not agree).

On the course we had mainly full orchestra sessions but also sectionals, during which I was not required, so I was there part time. Richard was brilliant. He made sure every section got equal attention and his feedback was always positive. He would give praise where it was deserved but also clearly point out what could be improved in a nice manner, with humour. There were numerous pearls of wisdom eg: "Double piano is not a negative dynamic".

We worked hard but he made sure we didn't overdo things and at one point cut the rehearsal short as we were just too tired and our brains didn't work anymore. It was clearly time for the bar.

Going back to the timps: Benslow Music stores a wonderful set of them. Some timps are very difficult to tune because of the system (eg tap timps) or because they are not set up properly initially. But these are wonderful. I was able to change the notes myself which I am not on a lot of others. Hitting them at the right time is the least of your problems as a timpanist, but the tuning...You need a very good ear, you work out whatever note it is you want from listening to the oboe A, you need to be quick when you change between movements and you need to multitask: sometimes you have to change the note in the middle of a movement! How do you do that, while you are counting and not losing your place? Professional timpanists as I'm sure you know, constantly lean over to check and adjust the tuning. It's beyond me how they do that and still be bang on time at their next entry. Richard helped with the tuning when I struggled, advised me on which sticks to use when and kept an eye on me being in the right place.

Despite our best intentions, during the "concert" most of us made mistakes, but on the whole it went quite satisfactorily.

Concurrent to our course there was a photography course and the participants took pictures of us during rehearsals. They presented a slideshow of their work on our last day which was fascinating: the angles at which pictures of the instruments were taken, the looks of concentration, enjoyment or horror on our faces!

All in all it was a great course and I've already put next June in my diary!"

Ankie (timpani)
If you would be interested in writing a short review/blog about your course to be featured on the Benslow Music Memories page of our website, please email info@benslowmusic.org.