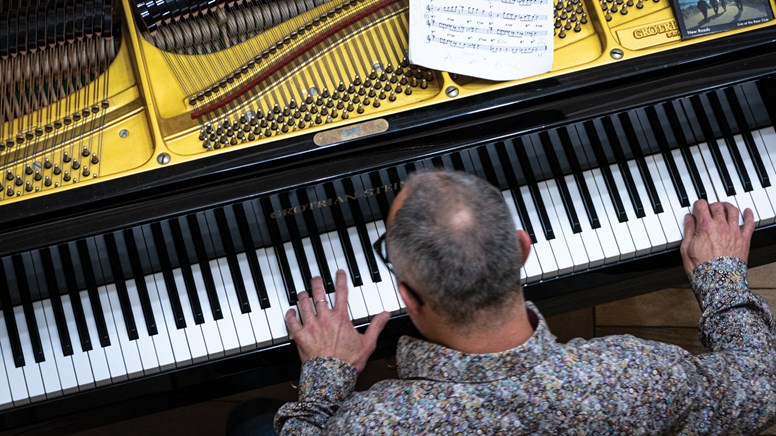 Marco Marconi began his musical career as a classical pianist. Studying privately, Marco gained his diploma at 22 in classical piano from the Conservatory of Music in Perugia, achieving full marks with honours. Marco went on to win several piano competitions throughout Italy and in 1998 was a finalist in the annual competition at La Fenice, Venice, open only to the top graduates from Italian music colleges. Later, Marco continued his studies at the Conservatory of Music in Perugia and with Riccardo Risaliti, professor at the Conservatory G. Verdi in Milan.
Having gained his first diploma in piano, Marco moved on to discover the world of jazz. Using his phenomenal technique and talent, he swiftly became a jazz appassionato, gaining a second diploma in 2005, this time in jazz, again achieving maximum marks. Throughout this time Marco also deepened his knowledge of jazz under the guidance of Ramberto Ciammarughi, an exceptional pianist and composer on the European jazz scene.
In August 2013, Marco was signed by the prestigious Candid RecordsJazz label and released his solo CD, Mosaico, under this label in spring 2014. In summer 2015, Marco changed label to the renowned 33 JazzLabel and released Nordik, an album recorded with his UK trio. In March 2017, the trio released Trialogue and in October 2019 New Roads to rave reviews, again with 33 Jazz.
As a composer, Marco spends much of his time writing jazz, which he performs live in concert. In 2009 Marco made his UK debut at the Cheltenham Jazz Fringe Festival performing his own songs and jazz standards. He returned to the UK in the autumn of 2011 to headline at the Lancaster Music Festival. Since moving to the UK in 2012, Marco has toured the UK with his trio and performed in some of the top UK jazz clubs and festivals including Pizza Express, Ronnie Scott's, Royal Albert Hall (Sala Verdi) 606 Club, Southbank Centre, The Vortex, The Stables, Stratford Jazz, Mill Hill Jazz Club, Lancaster Music Festival, Cheltenham Fringe Festival and London Jazz Platform. Marco has performed at Umbria Jazz, Umbria Film Festival, Monterchi Festival, Arezzo Jazz, Festival of Nations, Gubbio No Borders Jazz Festival, Valmarecchia Festival and the Festival dei Saraceni in Italy, Café Istanbul and Snug Harbor in New Orleans. Both as leader and a side man, he has performed in different formations in Italy, England, France, Luxembourg, Germany and USA.
Book Your In-Person Tickets