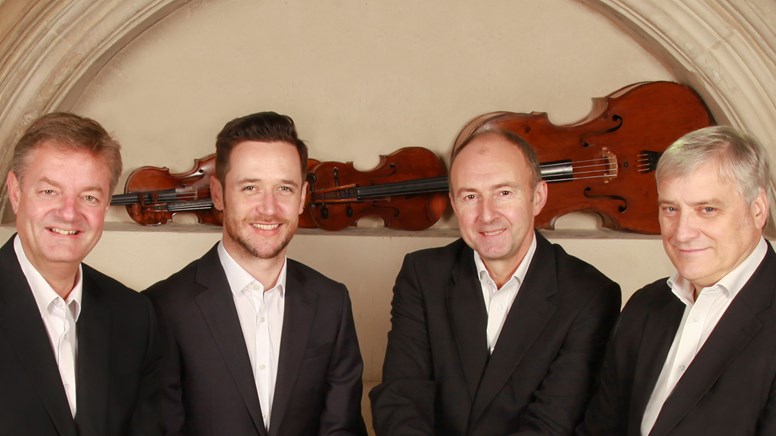 The internationally renowned Maggini Quartet will inspire and encourage each group to immerse themselves further in string quartet repertoire of their choice. Their friendly and knowledgeable coaching will offer guidance in musical and technical matters during the course.

Resident: £490 Non-Resident: £376 (25% off for under 27s) Code: 23/309

Booking for Members opens at 11am on Thursday 1 September 2022.

Non-Member and online booking opens at 11am on Thursday 29 September 2022.

For details on how to become a Member to take advantage of early booking, see here.
What is the course about?
The Maggini Quartet, one of the leading ensembles working in the education field, return for another course for up to ten pre-formed string quartets. Participants will benefit from the Maggini's superb teaching and can choose the repertoire they wish to be coached on. The course fee includes the public concert on the Friday evening. Please note that any quartets wishing to arrange a pre-course playing room between 2.30pm-6.30pm on the first day must contact us prior to the course to avoid disappointment. For those who apply as individual applicants, we will do our best to match you up with a suitable group if space allows.
Tutor website: www.maggini.net
What will we cover?
All aspects of quartet playing: musical, technical and interactional may be covered as appropriate
What will we accomplish? By the end of this course you will have...
Insights into the repertoire being studied with additional skills which may be applied to other music.
What level is the course and do I need any particular skills?
Confident, Skilful
How will the course be taught, and will any preparation be required?
The course is taught in one hour coaching sessions of each pre-formed string quartet. Groups are encouraged to bring repertoire which is prepared before the course, but this is not essential.
Will music be provided in advance of the course?
No, participants should bring their own parts and full score.
Is there anything I need to bring?
Nothing special: only your own instrument, music, your own stand if preferred...and a spirit of enquiry!
What previous participants said about this course…
"The Maggini are always so encouraging and knowledgeable and patient. It's so great to learn something new from them every time."

"All our coaching sessions were excellent and we came away feeling we must do this more often. The level of teaching was perfect for us."

"The Maggini were, as always, inspirational…They are always so friendly and provide insights into the work which would otherwise escape us."