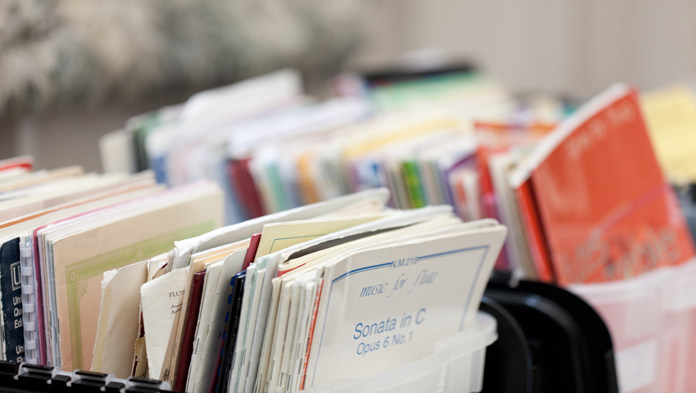 During lockdowns, librarians have still worked, working on three large bequests. Much has been added to our library and all donors are asked if we may sell duplicates or unsuitable items, usually through the well-browsed shelves on the landing of our main house.
We check the internet when pricing most items for our sale shelves; we want to be fair to Benslow and to our visitors. Prices are always less than Amazon or other internet sellers; say 2/3 of new price if as new or similar cut for well used items. Among those listed below are some books worth rather more than our 'run of the mill' or seeming unusual.
Prices given are for cheaper of hard or paperback editions on-line ignoring postage. We invite you to make a bid for any that interests you. If you would like a photo of cover or typical page, please ask library@benslowmusic.org.
Our 'For Sale' shelves are bursting with music but there is more waiting to go out! So if you have a wish-list please contact the library for availability and price.
We can keep books or music until your next visit or post at your expense.
Author

Title

paper/

hardback

Price

New

£

Price

2nd

hand

Comments

Donington

Interpretation of Early Music

p

124

38

Donington

String playing in baroque music

h

32

32

Paynter

Sound and Structure

p

50

14

Menuhin

Six lessons with Yehudi Menuhin

p

37

17

Cook

Music imagination & culture

p

69

18

Chipper

Fundamentals of Fiddle Teaching

p

90

89

Smith & Renouf

Oxford Student Harmony bk1

p

10

5

Smith & Renouf

Oxford Student Harmony bk2

p

10

5

Farga

Violins and violinists

h

17

17

1955 ed

Brindle

Serial composition

p

52

16

Tippett

Music of the angels

p

17

Sandor

On Piano Playing

h

111

80

Milne

More very young Songs

h

19

Mozart

Six sonatas for Piano with Violin or flute. Facsimile copy

p

?

Copy 10

of ?

Janacek

Composizioni da camera Violoncello e Piano (Supraphon/Barenreiter)

p

?

Not available

Hunter

The fiddle music of Scotland

h

39

38

The golden book of carols. 1948

h

100

£30 Oxfam

Scholes

Concise Oxford Dictionary of music 1964

h

50

Later ed. costs less!

An outline of Czech and Slovak music

p

12

12

Wagner

The royal family of Bayreuth

h

32

Roger North on Music

h

780

50

Dent

Alessandro Scarlatti

h

25(Abe)

First ed.

La Prade

Alice in Music Land

h

760

28

La Prade

Alice in Orchestra Land

h

3

3

Jones

Joyous stories from music's wonderland

h

Robertson

La boutique fantastique -

Part of following series

h

42

Small format

Posner

Coppelia/ Giselle/ Swan Lake/Sleeping Princess

h

18 for all 4

for children

Schoenberg

Full score; Von Heute auf Morgen

p

$200

Groves

Dictionary of Music and Musicians 20 vols 1980

h

60

Like the set in our library
Updated 10.00 on 20 June 2021