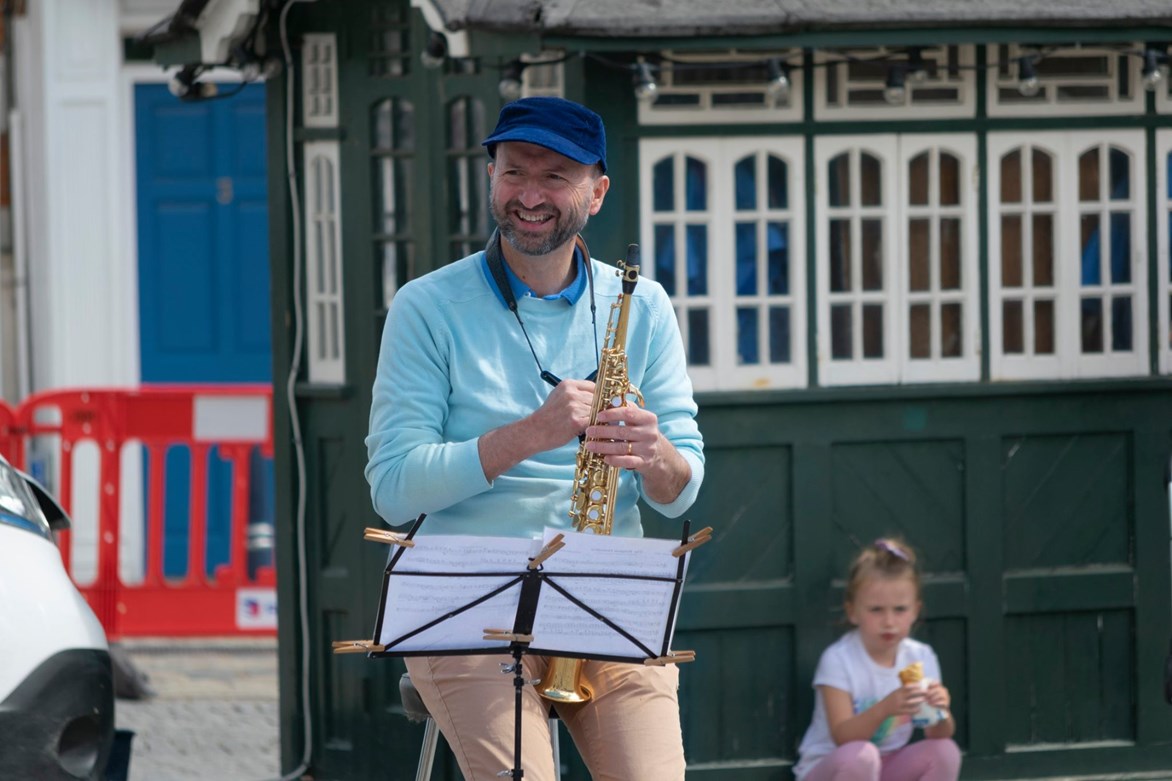 Keep Music Alive at Benslow
Please come along and support our Benslow Buskers this Saturday 8 August! The forecast is for sun, so come along, bring a garden chair, and enjoy two hours of jazz! The line-up this Saturday is 21-year old Isobel Doncaster, the 'girl with the golden voice', supported by Trevor Hughes on keys, Gillian Hughes on clarinet / sax and Jan Tothill on bass.
Isobel Doncaster is a violist and singer, currently studying classical viola at the Guildhall School of Music and Drama. Throughout her time in school she enjoyed playing in several youth orchestras and singing with the North Herts Youth Jazz Big Band, which nurtured her love of jazz singing. Isobel is delighted to be raising money for Benslow Music and has benefitted greatly from the service.
Trevor Hughes is the Director of Music at Holy Saviour Church in Hitchin, where he conducts both the Church Choir and The Radcliffe Singers, a female voice choir. He's accompanied recitals in the Purcell Room, the Wigmore Hall, and on BBC Radio 3, as well as in many music clubs over the country. He has also played keyboards in a number of West End shows, and for over ten years he contributed regularly to BBC Schools Radio music programmes, as keyboards player, musical director, and arranger. He also performs regularly in fund-raising concerts, including annual concerts on the organs of both the Royal Albert Hall, and the Royal Festival Hall.
Gillian Hughes was, for many years, a member of Music Therapy Bedfordshire, working with children and adults with a wide variety of special needs. She now continues her clarinet and saxophone teaching and running woodwind ensembles. Gillian has played in many chamber groups, and regularly gives recitals, accompanied by her husband Trevor. She is the Principal Clarinettist for Trinity Orchestra, based in Harrow, with whom she has performed the solo clarinet concertos of Finzi and Mozart, Mozart's Sinfonia Concertante, and, together with Colin Lawson, Krommer's two double clarinet concertos. She also plays in the New English Concert Orchestra in their annual season of Battle Proms concerts.
Although trained as a 'classical' player, Jan Tothill developed a love of swing, jazz and big band music listening to Glenn Miller and Frank Sinatra with her father. Whilst freelancing, she joined an eight-piece swing band and regularly played in the ballrooms of the top London hotels. Jan currently works as a Deputy Head in a Hertfordshire primary school.
Watch our website www.benslowmusic.org for more events over the summer.