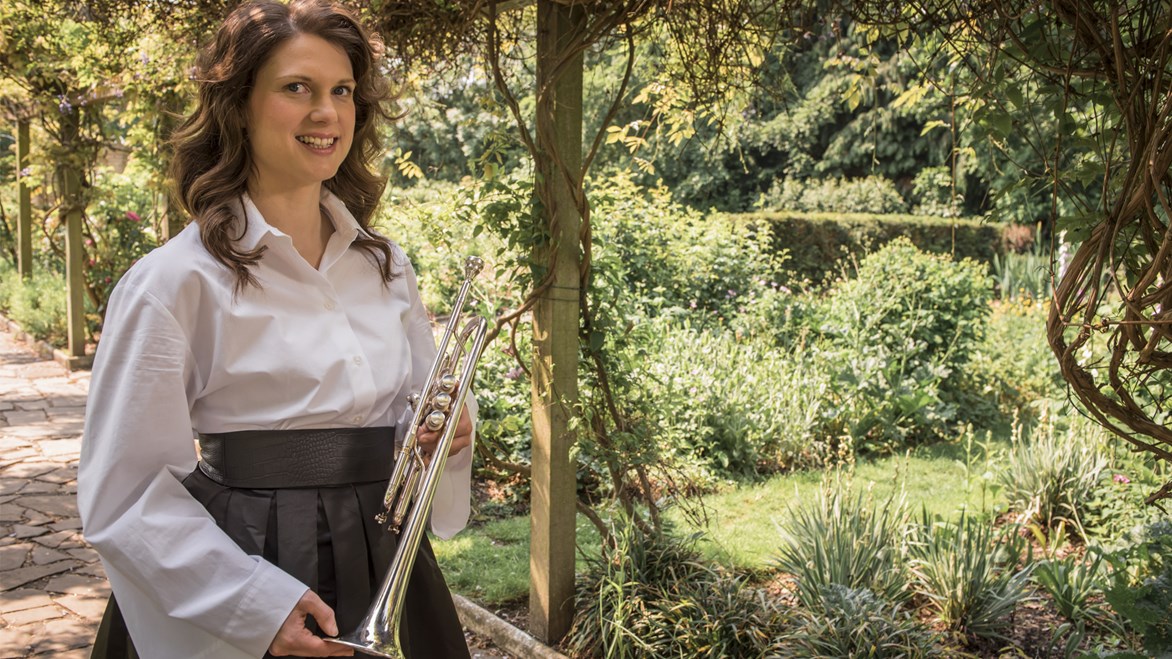 Returning to Benslow Music with a course for all brass players, trumpeter Jo Harris offers insights into developing your expressive playing and enhancing your enjoyment of performing solo and chamber music.

STANDARD: CONFIDENT, SKILFUL

Resident: £339 Non-Resident: £246 (25% off for under 27s) Code: 22/251

Booking for Members opens at 11am on Monday 10 January 2022.

Non-Member and online booking opens at 11am on Monday 7 February 2022.

For details on how to become a Member to take advantage of early booking, see here.
What is the course about?
This performance course for brass players focuses on solo and chamber music, with opportunities to play as an ensemble and to work with an expert pianist. Jo's focus is on developing a beautiful sound, playing from the heart and approaching repertoire from a stylistic perspective. During masterclasses she will share ideas on how to overcome technical barriers and how to perform under pressure. This course will help you to play with ease and confidence whatever your level of experience. There will be an opportunity to perform a solo work in an informal concert and to try out improvisation. The course will enhance your listening and expressive skills.
Tutor websites: https://www.joharrismusic.com/ and http://bellatromba.com/
What will we cover?
Performing by yourself and with others
Solo and chamber music repertoire
New repertoire ideas and historical styles
Playing with freedom and expression
Improvisation
Building confidence in performance
What will we accomplish? By the end of this course you will be able to…
Play your chosen solo works with greater stylistic understanding
Play with an accompaniment, knowing how the music fits together
Choose new repertoire that suits your interests
Perform with increased confidence
Play with others, listening with awareness
What level is the course and do I need any particular skills?
Grade 5 and above, this course will benefit brass players of all levels but is particularly helpful for more advanced performers
How will the course be taught, and will any preparation be required?
Group improvisation class
Group song playing
Listening to others and performing in masterclasses
Opportunity for 1:1 session with a pianist
Talk on goal setting and performing under pressure
Will music be provided in advance of the course?
Participants should bring at least two solo piece and accompaniment parts. You are welcome to bring chamber music too.
Is there anything I need to bring?
Instrument, mutes if you have them.
What previous participants said about this course…
"Jo Harris is an excellent tutor who gave very insightful advice on performance."

"Jo was excellent as tutor bringing a wide range of helpful advice to all participants."

"This course was well worthwhile."