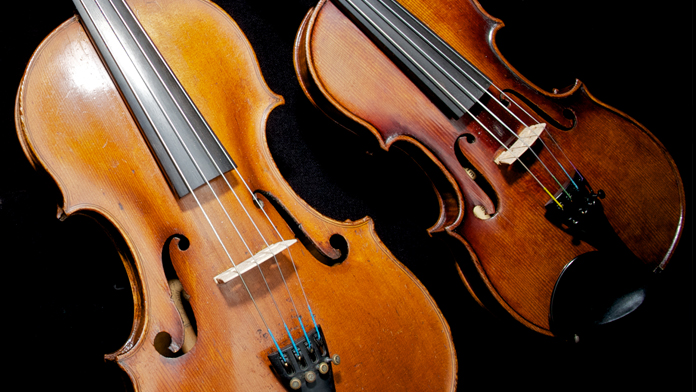 An Upper Intermediate to Advanced level course for violinists, combining technical development with an exploration of the demands for a violinist on adapting their playing to work successfully with piano.

STANDARD: CONFIDENT, SKILFUL

Resident: £320 Non-Resident: £232 (25% off for under 27s) Code: 22/R24

Booking for Members opens at 11am on Monday 23 August 2021.

Non-Member and online booking opens at 11am on Monday 20 September 2021.

For details on how to become a Member to take advantage of early booking, see here.
What is the course about?
Experienced duo partners Simon and Mark have decades of experience working on Sonata repertoire for violin and piano. They will guide the participants through the process of understanding the needs of a violinist when thinking about playing with a pianist. What are the implications for intonation, articulation and phrasing? How do you communicate effectively with a pianist? How does the pianist's perspective on a piece of music change the interpretation? The day will begin with a group technical session, with scales and basic exercises for both left and right hands.
Tutor website: www.simonsmithviolin.com
What will we cover?
Ensemble skills, general musical context and advanced technique
What will we accomplish? By the end of this course you will be able to…
More effectively communicate with a pianist, and adapt your playing technique to the needs of the duo repertoire
What level is the course and do I need any particular skills?
A playing level of Grade 6 or above
Arrive with prepared duo works for violin and piano.
How will the course be taught, and will any preparation be required?
The work will be in group sessions. Players will receive feedback from both tutors, as well as being encouraged to comment constructively on each others performance.
Will music be provided in advance of the course?
No, participants are requested to bring their own music. Helpful resources: IMSLP has a wide range of parts and scores. Benslow Music members may be able to hire the music from our library. Participants are urged to use recent "Urtext" editions wherever possible.
Is there anything I need to bring?
A violin!
What previous participants said about this course…
"Simon was fantastic: brilliant at coaching adults and building confidence, knowledgeable, and friendly."

"Simon Smith's course was perfectly judged and delivered in both content and manner."

"Absolutely chock full of helpful ideas, tailored to the participants' needs, and well structured. With lots of light moments an interesting anecdotes. A truly excellent course."

"You know it's been a useful course when you find that you're putting three or four newly learned tips into your practice the next day!"

"A tutor with excellent skills, who put us all at ease and considered our problems with great interest, always finding solutions."