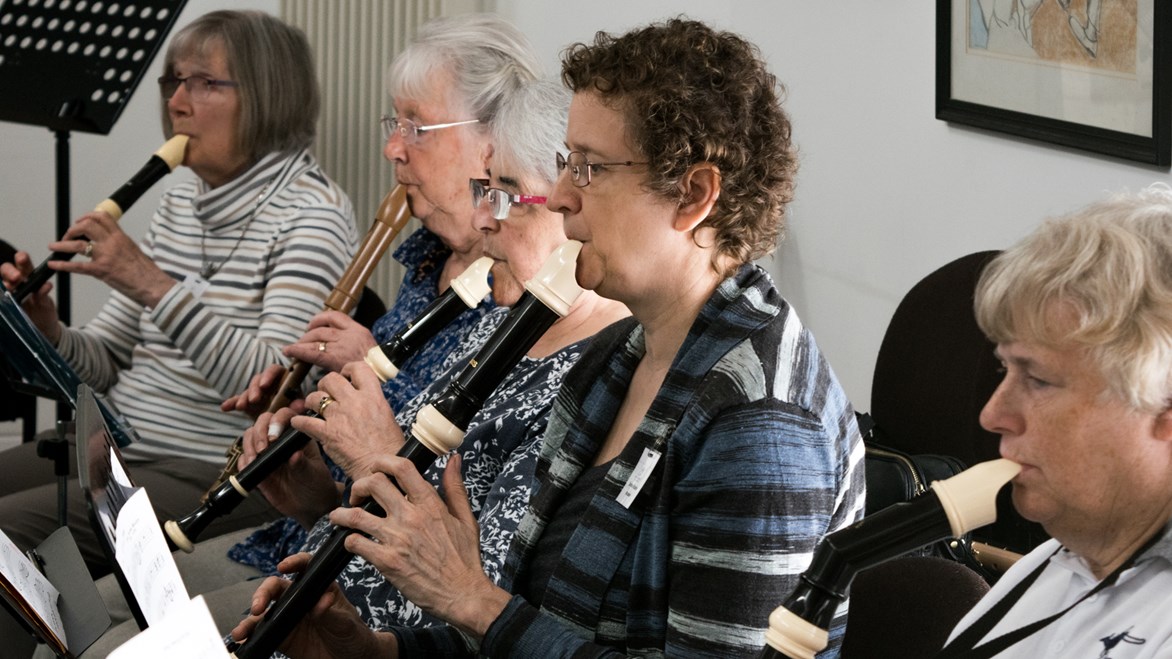 Join regular Benslow Music tutor Jean McCreery for this series of online courses aimed at exploring the wealth of solo repertoire available for the recorder. Starting with the Telemann Fantasias, future projects will include solo works by J S and C P E Bach as well as van Eyck's 'Der Fluyten Lust-hof' and on into later and contemporary repertoire.

STANDARD: CONFIDENT, SKILFUL

Fee: £75 for 4 sessions (25% off for under 27s; or £20 per session) Code: 22/OL2
What is the course about?
These one-day courses are aimed at advanced recorder players who would like guidance on approaching and playing solo repertoire and developing technical skills. Each course will offer advice and ideas for warm ups, 'technique surgery time' and opportunities to play prepared music to other course members in a guided and encouraging environment.
What will we cover?
Course 1 – Telemann Fantasias
Course 2 – Solo works by J S and CPE Bach
Course 3 – Other solo repertoire including Quantz studies, Csakan studies
Course 4 – Exploring 20th and 21st century repertoire and the techniques required
What will we accomplish? By the end of this course you will be able to…
Perform a variety of solo repertoire from a range of periods and genres and have a better knowledge of the techniques required.
What level is the course and do I need any particular skills?
Advanced recorder playing skills required to tackle the music to be performed, although other players are welcome to come and listen to the classes. Music will be set before each course so that players can prepare and be ready to perform with some confidence.
How will the course be taught, and will any preparation be required?
These online courses will be run in a group situation with each member having the chance to perform in turn. All work will be practical but with written advice and ideas for future development emailed out after the session.
Participants will need to have prepared specific repertoire before the course.
Will music be provided in advance of the course?
Yes, a list of the pieces to be studied will be made available one month prior to each course so that participants have the opportunity to prepare in advance.
Is there anything I need to bring?
Recorders, own copies of music to be studied, pencil.