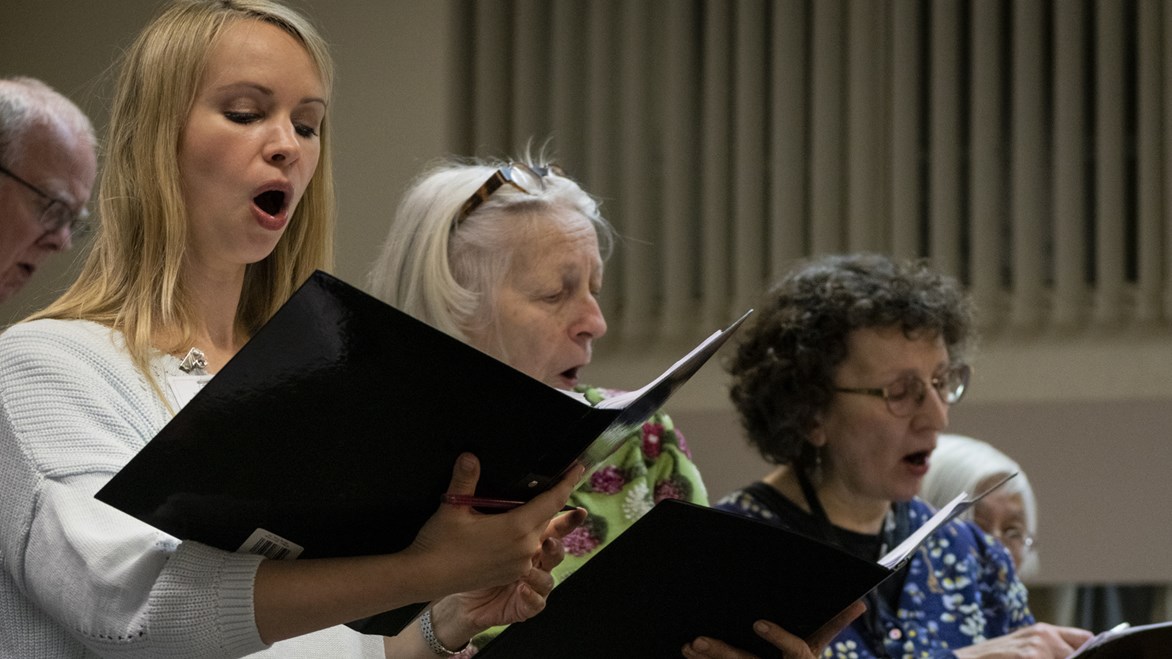 An inspiring opportunity to participate in a performance of well-known and lesser-known Baroque music with period instruments, chorus and outstanding young soloists.

STANDARD: CONFIDENT, SKILFUL

Resident: £556 Non-Resident: £438 (25% off for under 27s) Code: 21/R46

Booking for Members opens at 9am on Friday 14 May 2021.

Non-Member and online booking opens at 9am on Friday 18 June 2021.

For details on how to become a Member to take advantage of early booking, see here.
What is the course about?
2021 sees the return of our Benslow Baroque Oratorio course: this year there is a slight twist in that we will be theming the course around music for St Cecilia. We are delighted to welcome Dr Bryan White to our tutor team as Chorus Master. Bryan is a member of the Purcell Society, Director of Research and Innovation in the School of Music, University of Leeds, director of the Clothworkers Consort of Leeds, and his book 'Music for St Cecilia's Day: From Purcell to Handel'examines the social, cultural and religious significance of celebrations of St Cecilia's Day. We are looking to recruit a team of violins, violas, cellos, double basses, recorders, oboes, bassoons, trumpets and continuo (harpsichord and theorbo), as well as a chorus of singers to put together a concert performance to a public audience, including Draghi's From Harmony (A Song for St Cecilia's Day 1687) and Handel's Ode for St Cecilia's Day (HWV 76) in just four days. The solo roles will be auditioned (click here to find out how to take part). Participants will arrive around 4pm on Sunday 31 October and will depart after the 2pm public performance (at the Benslow Music campus) on Thursday 4 November. We'll be playing in period style at A=415 and on period instruments, but we also welcome string players on modern instruments with gut strings and baroque bows too.
Tutor websites: www.satokodoi-luck.com and www.judytarling.com
What will we cover?
Performing in a period appropriate, stylish and dynamic way.
What will we accomplish? By the end of this course you will be able to…
The course culminates in a public performance in front of a paying public audience – an amazing challenge to be a part of!
What level is the course and do I need any particular skills?
Standard: Confident, Skilful
How will the course be taught, and will any preparation be required?
The course will involve tutti and sectional rehearsals. You are expected to familiarise yourself with the music before arrival. Singers are not required to be off-copy.
Will music be provided in advance of the course?
Yes music will be sent by post and you are expected to familiarise yourself with the music before arrival. Singers are not required to be off-copy.
Is there anything I need to bring?
We are playing at A=415 and don't forget to bring your baroque instrument, or if you don't have one then gut strings and baroque bow. Baroque violins, violas and bows are available to hire for the course from Judy.
What previous participants said about this course…
"Thorough and demanding. Encouraging us to aim for high standards. The tutors were good humoured, patient and friendly."

"Very good for baroque lovers - excellent soloists and good atmosphere."

"Fun. Not to be missed!"

"Stylistically informed performance course trying to be as authentic as possible and using less known works. A very enjoyable process particularly with the standard achieved in a short time and with excellent soloists."