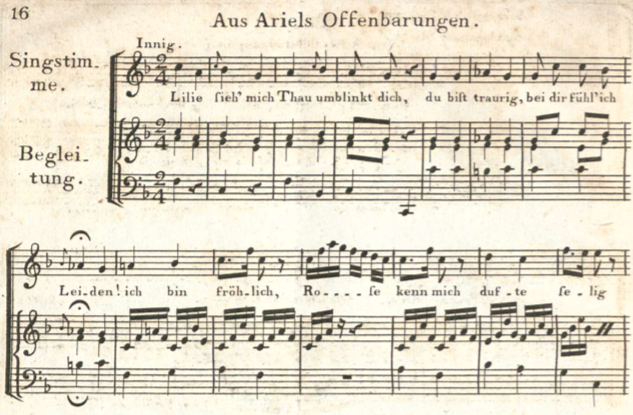 From this... IMSLP pdf – hugely valuable resource, but scores can be difficult to read, sometimes damaged, annotated or incomplete - and almost impossible to edit.
To this... MuseScore digital format – much easier to read, edit, transpose, rearrange and enlarge - and it's legal! Format also works with other digital music software.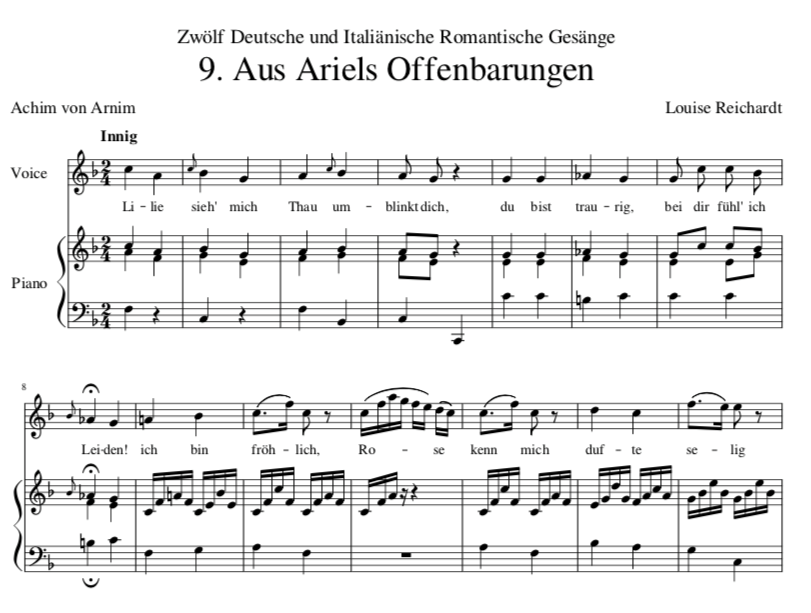 When I am not booking, practising for, or attending Benslow Music courses, much of my spare time is spent at my computer, transcribing old scores from IMSLP on to MuseScore for the OpenScore LiederCorpus project. It is obvious to me that the resulting scores could be an extremely valuable resource for Benslow Music, its tutors and course members. That is why I decided to share the secret.
The aim of OpenScore is to create digital scores of Public Domain music. These are then made freely available under Creative Commons Licence, which means they can be transposed, rearranged, printed, copied, distributed, and performed without fear of transgressing in the minefield of copyright law.
The part of the project I am involved in is the LiederCorpus, which currently has over 800 songs, by a wide variety of composers, accurately transcribed into Musescore, and available from the website. Of course, this would be of greatest interest to singers, but there are so many other possibilities. Imagine – an SATB song can be easily transformed into a string quartet (I have done that for my string ensemble!); or a soprano solo with piano accompaniment can become a flute solo; and if you can't play in Dflat major, just quickly transpose into D major!
How does it work?
The initiators of the project identify a score from IMSLP that can be verified as being in Public Domain, and produce a MuseScore template of the basic layout.
This is then downloaded by a volunteer transcriber, who enters the notes, lyrics and other elements of the score, carefully copying from a .pdf download of the IMSLP score. The completed score is then sent to a reviewer for further scrutiny, to ensure its accuracy, before it is finally added to the website.
Who can be involved?
Requirements for would-be transcribers:
A reasonably good working knowledge of MuseScore;
An eye for detail;
Patience, and willingness to learn – I think I learn something new every day;
A smattering of French and/or German language is helpful but not essential;
Spare time!
If this is you – you could aspire to join the team, and help to make good quality music freely available in digital format.
Interested?
To view the LiederCorpus scores already completed go to:
https://musescore.com/openscore-lieder-corpus/sets
For a list of scores currently available for transcription or in progress:
http://bit.ly/LiederCorpusSongs
For a bit more background information:
https://fourscoreandmore.org/scores-of-scores/
I am also happy to answer any questions – email me, Maureen Redbond, on ashmoggs@gmail.com
Cost?
MuseScore is a high quality music notation programme, completely free to download and use as a musical notation tool. NB the number of downloads of scores may be limited in the free version, but is unlimited in the Pro version (£5.49 monthly or £39.99 pa). NB transcribers are rewarded with one month's free Pro membership for each score transcribed – a bargain!
Maureen Redbond, Benslow Music Member