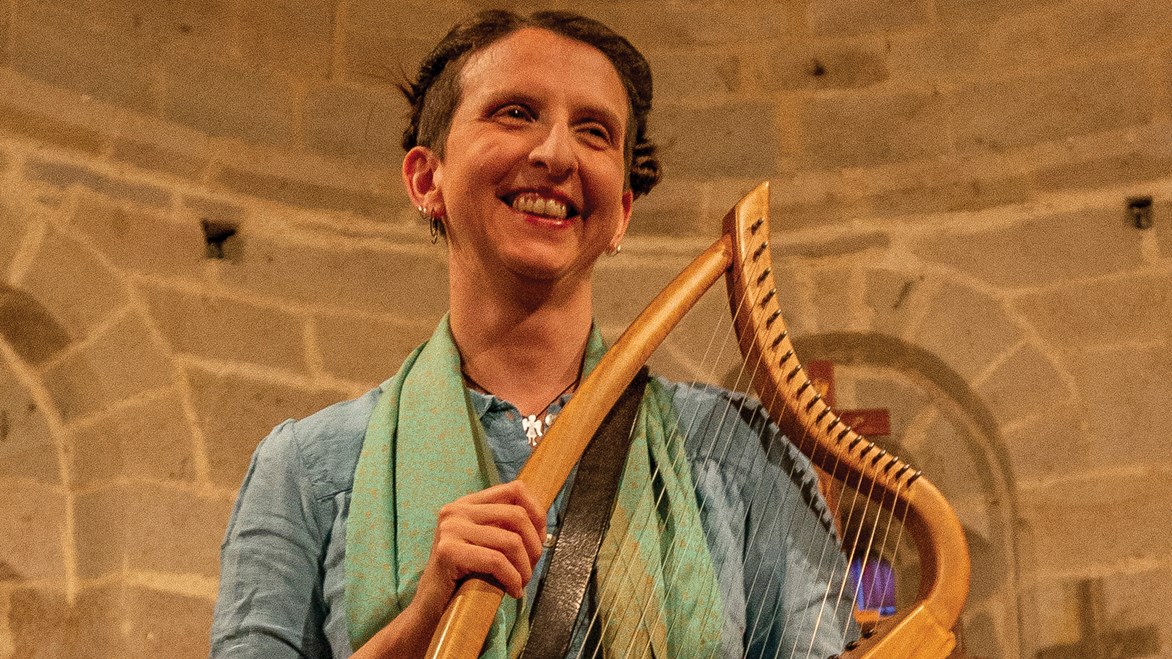 We will explore the poetry of the women troubadours and discover approaches to making these songs live again. We will look at manuscripts, memorise troubadour melodies, improvise new ones, find contrafacta, and learn about accompanying.

STANDARD: ALL

Resident: £330 Non-Resident: £242 (25% off for under 27s) Code: 21/R01

Booking for Members opens at 9am on Friday 14 May 2021.

Non-Member and online booking opens at 9am on Friday 18 June 2021.

For details on how to become a Member to take advantage of early booking, see here.
What is the course about?
Most medieval women were unable to bequeath us their words, because they couldn't write them down. That's part of the reason why the women troubadours, active in Southern France during the 12th and 13th centuries, are so fascinating. We know about 20 by name and have 46 or so poems. Only one, 'A chantar' by the Comtessa de Dia, has a melody in a medieval source though, so how can we approach this repertoire today as singers and instrumentalists?
In this course you will begin to shape your answer to that question. We will explore some poems and get an idea of the context. We will listen to and critique some of the many recordings of 'A Chantar', discussing what is convincing and what is pleasurable about the different performances.
Then we will memorise melodies, both troubadour and Gregorian chant, building up our storehouse so that we can produce new tunes in the same style. We will improvise tunes for poems by women troubadours using what we've learnt. Working from facsimiles, we will also look at the way that melodies for the same poem varied from manuscript to manuscript and consider what this means for our performances.
Next we will pick a selection of poems by women and analyse their texts. We will look for pre-existing medieval melodies that might fit; this is called the art of contrafacta.
Finally, we will create a fully-fledged performance, imagining what sort of interventions an instrumentalist might add, how to accompany, what kinds of options might have been available to the medieval musician and what other options might be available to us now.
This course is open to all instrumentalists (both modern and period) and singers, and the course fee also includes entry to Leah's concert on the first night of the course. We will perform at A=440.
Tutor website: leahstuttard.com
What will we cover?
Women troubadour poetry and its context
Medieval song in performance today
Medieval song
Medieval melody
Contrafactum
Creating medieval melody
The limits of authenticity
Authentic process
What will we accomplish? By the end of this course you will be able to…
Understand some of the musical issues concerning performance of troubadour song
Improvise a convincing troubadour, medieval style melody to a given text
Draw on a number of different ideas to produce an accompaniment for a troubadour song
What level is the course and do I need any particular skills?
Everyone will be expected to sing, even the instrumentalists! You don't need to be a "singer" though, just willing to use your voice to explore melodies.
How will the course be taught, and will any preparation be required?
There will be a fair amount of small group work and practical singing together as a whole group. We will listen critically to recorded performances. Musically we will work with and without notation, by ear as well as by eye. Using medieval sources will also help us to overcome the tyranny of reading the dots as the only option we might feel comfortable with when musicking (scared of improvising? Don't worry, this course is still for you!) We will also be exploring the medieval Occitan texts quite a lot, so expect to think as much about words and poetry as about music.
Will music be provided in advance of the course?
For a very helpful website with troubadour melodies, see http://www.troubadourmelodies.org/
The tutor will be using some of the teaching ideas found in Angela Mariani's book Improvisation and Inventio in the Performance of Medieval Music (OUP, 2017) so suggests that you could also browse this book if you wish, particularly the chapters on mode and inventing melody (it is all very readable and interesting though!)
All other relevant materials will be provided by the tutor on the course.
Is there anything I need to bring?
Bring any instrument you can play at pitch A=440, or just yourself if intend only to sing. Comfortable clothes are always a bonus. If you would like to make sure you memorise the melodies taught orally and keep what you've learnt in your memory, a small discrete handheld recording device might be useful (smartphone, Zoom, tablet).