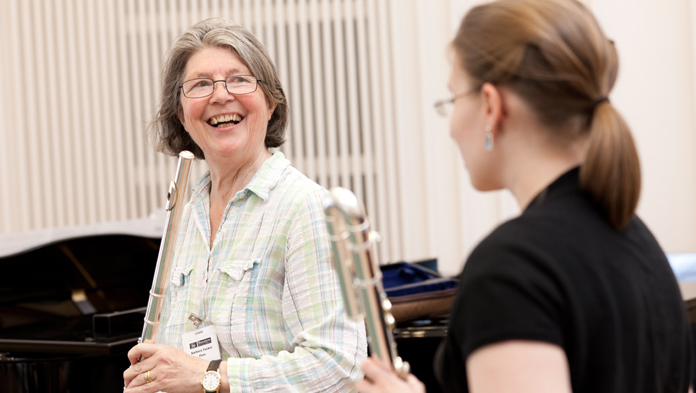 As the name suggests, this course offers flautists an intensive study of all aspects of flute playing: technique, solo performance with an accompanist and ensemble playing.

STANDARD: CONFIDENT, SKILFUL

Resident: £453 Non-Resident: £345 (25% off for under 27s) Code: 21/R05

Booking for Members opens at 9am on Friday 14 May 2021.

Non-Member and online booking opens at 9am on Friday 18 June 2021.

For details on how to become a Member to take advantage of early booking, see here.
What is the course about?
This course offers flautists an opportunity to improve their flute playing with daily sound and technique workshops, rehearsal opportunities with an experienced accompanist, masterclasses and flute choir ensemble playing. Each day will start with a sound session to improve all aspects of tone production followed by sessions studying techniques such as articulation, posture, breathing, phrasing, vibrato, tuning, dynamics and any specific aspects of technique that you wish specific help with, running parallel with independent accompaniment sessions with an accompanist. The afternoon sessions will be divided between ensemble playing and an open masterclass with the group. Playing in the masterclass is voluntary and the objective of these sessions is to provide a supportive atmosphere to play and discuss technique and interpretation of your chosen repertoire that will be of benefit to both listeners and performers. The evening session will be a chance to relax and enjoy playing together various arrangements from ballet, film and classical genres giving you the opportunity to work on ensemble skills such as tuning, leading, stagecraft and balance, through the enjoyment of ensemble playing, and guide you as to how to rehearse in such groups. Please let us know in advance whether you will be bringing along a piccolo, alto or bass flute to the flute choir sessions so we may plan appropriate repertoire for the ensemble sessions, along with your approximate playing standard. There will be an optional sharing at the end of the course at 2.30pm on the last day, where participants may perform, to friends and family, their solo repertoire from the masterclasses and ensemble repertoire worked on throughout the course.
What will we cover?
Technical aspects of flute playing: sound production, timbres and colours, posture, breathing, articulation, tuning, vibrato, finger technique. Flute performance: working with an accompanist, either privately with the accompanist or as part of a master class with the group. Flute Choir: rehearsing in small chamber groups with a choice of repertoire and together with the whole group
What will we accomplish? By the end of this course you will be able to…
Feel secure in your technique or else know what needs to be done to facilitate this.
What level is the course and do I need any particular skills?
Confident, Skilful
How will the course be taught, and will any preparation be required?
Group technique classes, master classes, individual sessions with an accompanist, master classes and small group and massed group ensemble playing.
Will music be provided in advance of the course?
Relevant technical resource handouts will be provided for use during the class and to take away after the course. Participants will need to bring their own music to perform in master classes and for use with their accompanist's session. Ensemble music will be provided for the duration of the course only.
Is there anything I need to bring?
If you own piccolo, alto or bass flutes, please bring for use in the chamber music groups.
What previous participants said about this course…
"Intense flute technique sessions geared to participants requirements lead by an enthusiastic and positive tutor. Opportunities for performance, ensemble playing and a session with a piano accompanist."

"Excellent for technique. A really supportive group."

"Joss Campbell is an excellent teacher, encouraging and enthusiastic with an eye for detail e.g. spotting incorrect fingering or noticing defects of embouchure and knowing how to correct them. She made the course fun while working us hard, "boot camp flute" and made masterclasses non-intimidating and supportive."

"A back to basics course in technique and how to do your daily flute practice, breathing exercises, long notes for tone and tuning, finger agility and articulation and scales."