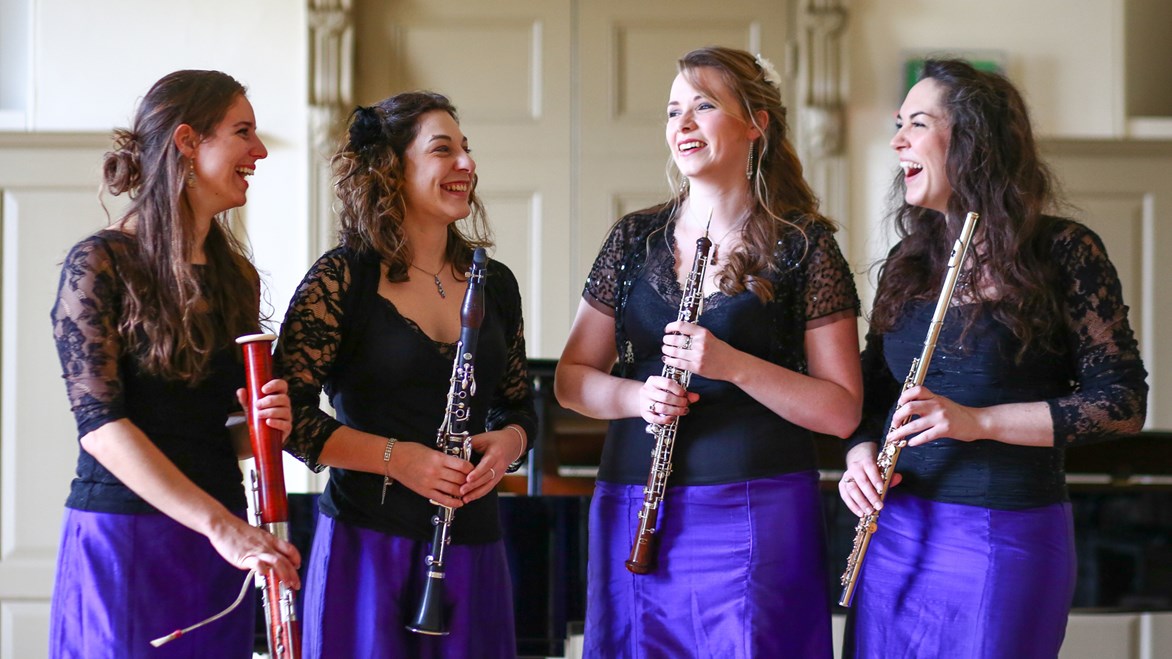 This course aims to allow individual musicians to come together and to play wind chamber music together.

STANDARD: UPPER INTERMEDIATE, ADVANCED

Resident: £295 Non-Resident: £215 Code: 20/268
What is the course about?
Building on the success of their popular course Wind Ensembles with the London Myriad Ensemble, this course welcomes individual applications from players wishing to explore new repertoire for wind chamber ensemble and to mix and match with other musicians in a number of different combinations. Applications will be welcomed from flute, oboe, clarinet, horn and bassoon players. Pianists who wish to try out some of the fantastic winds and piano repertoire are also welcome. The course is designed for players of a confident Grade 7 and above and good sight-reading skills are necessary. The course will focus on learning music that is little played due to larger formations and is usually from the 20th century onwards. There will be the opportunity for an informal play-through on the last afternoon so you can share your musical discoveries!
Tutor website: www.londonmyriad.com
What will we cover?
Ensemble skills and covering a large range of repertoire and combinations.
What will we accomplish? By the end of this course you will be able to…
You will have hopefully played some music that you do not often get to perform with other musicians and you will have developed your ensemble skills. You may also have made new contacts for the future from meeting and playing alongside other musicians.
What level is the course and do I need any particular skills?
You will need to be of a confident grade 7 and upwards on your instrument. You will also need good sight-reading skills as this course is about covering some challenging repertoire in large quantities with a variety of people.
Upper Intermediate, Advanced
How will the course be taught, and will any preparation be required?
Sessions will take place in groups. The approach is very practical and hands-on.
Most sessions will have a tutor present. They will tutor you but also encourage you to work together well as an ensemble, which will include some per-to-peer feedback and constructive attitudes.
No specific preparation is needed although some pianists may wish to know what repertoire might be included.
Will music be provided in advance of the course?
Music will generally be provided by the tutors, although suggestions of repertoire (in advance) that you might like to try is welcome, as is bringing your own copies if you have them. The tutors have a limited number of resources, so not all needs can be met, but we do promise a vast array of music and combinations whether with different instruments or instrumentalists.
Is there anything I need to bring?
Just you and your instrument!
What previous participants said about this course…
"The tutors were proficient, very friendly and approachable and the course was well organized, especially as it involved a wide variety of pairings and groups."

"I played some marvellous music with some lovely people."

"Enthusiastic tutors, very adept in adapting repertoire to course participants."