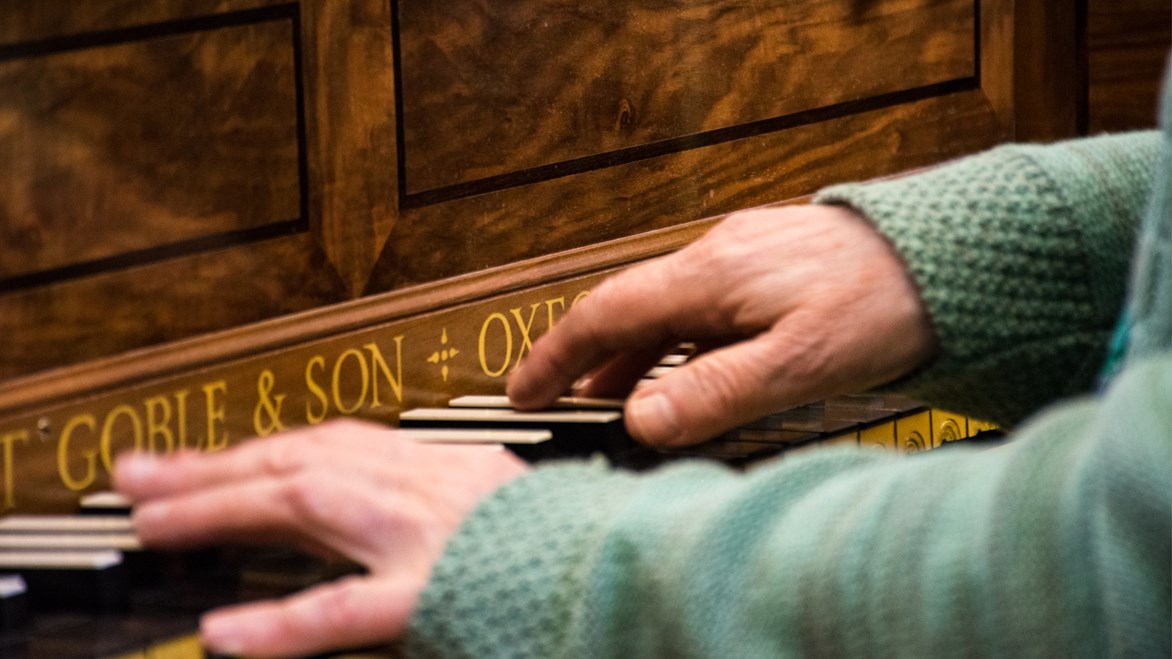 Dr Cave will teach the essential technical skills required for interpreting French ornamentation on the harpsichord, noting stylistic differences across a broad repertoire, to enhance performances of Chambonnières to Duphly.

STANDARD: CONFIDENT, SKILFUL

Resident: £320 Non-Resident: £232 (25% off for under 27s) Code: 22/233

Booking for Members opens at 11am on Monday 18 October 2021.

Non-Member and online booking opens at 11am on Monday 15 November 2021.

For details on how to become a Member to take advantage of early booking, see here
What is the course about?
The topic for this year's harpsichord course, led by Dr Penelope Cave, will be French ornamentation, but including rhythmic inégalité, petite reprises, and other stylistic tropes, in addition to general harpsichord technique and articulation, will be shared in a friendly workshop situation, with handouts for extra clarification. Participants are invited to prepare items from the set repertoire list, which will allow for plenty of choice (available on application).
What will we cover?
Baroque styles, specific harpsichord technique, performance and interpretation, practice-techniques.
What will we accomplish? By the end of this course you will be able to…
Refer to ornamentation handouts, integrate ornaments into your pieces, and hopefully take away the realisation that these embellishments are more than mere surface-decoration! Generally it offers a wider understanding of style and interpretation.
What level is the course and do I need any particular skills?
Standard: Confident, Skilful
How will the course be taught, and will any preparation be required?
Group work with tutor feedback, and some peer collaboration.
Preparation is required.
Will music be provided in advance of the course?
No, participants are requested to bring their own music from the list. Helpful resources: IMSLP has a wide range of parts and scores. Benslow Music members may be able to hire the music from our library.
Repertoire List:
In order to have something for each or most of the sessions, and cover varied ornamentation instructions, which I shall present chronologically, I suggest you choose from the following which, apart from Duphly, are all available free on IMSLP— but be prepared to look under the tab, "collections" (https://imslp.org/wiki/Category:Composers. Tablets can be used as an alternative to bringing too many books with you. If you want to play a different French composer from a similar time-frame, then please bring a few photocopies with you.
Choose a piece from Les Pièces de Clavecin Livre Premier :1670, by Jacques Champion de Chambonnieres (1601-72), the father of the French harpsichord school.
Jean Henri d'Anglebert (1629-91) Pièces de Clavecin :1689
François Couperin (1668-1733) choosea piece from theOrdres in 4 vols: 1713, 1717, 1722, & 1730, OR Jean-Philippe Rameau (1683-1764) Pièces de Clavecin : 1706, 1724 & 1727
Bernard de Bury (1720-1785) Premier Livre de Pièces de Clavecin (c.1737)
Jacques Duphly (1715-89) four volumes of harpsichord music: 1744, 1748, 1756 & 1768.
OR Armand-Louis Couperin (1727-1789) Pièces de Clavecin : 1751.
Is there anything I need to bring?
Scores (some students use an Ipad, and some like to have a notebook with them)
What previous participants said about this course…
"Penelope as always is a very stimulating tutor."

"It was all very enjoyable and I learnt a huge amount from the tutor and all the other participants. It's always good to be challenged!"

"Got exactly what I'd hoped from it!"