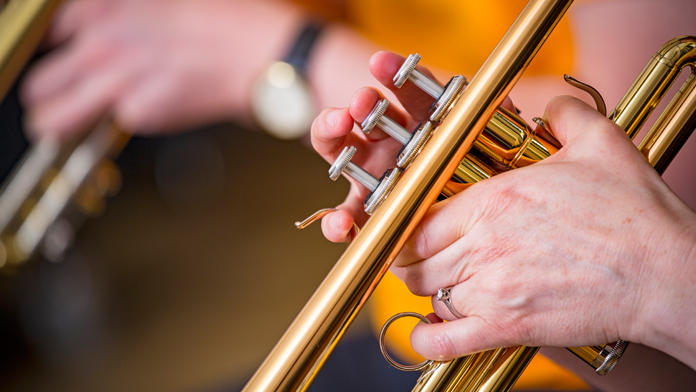 We shall explore strategies for jazz improvisation via standard repertoire. From the blues, modal, 32 bar song form, Latin and rhythm changes.

STANDARD: UPPER INTERMEDIATE, ADVANCED

Resident: £295 Non-Resident: £215 Code: 20/237
What is the course about?
Following last year's success, Jeffery Wilson returns in 2020 with this exciting course designed for all experienced jazz musicians. OK so let us get to grips with what to play over a minor II V or how about those more chromatically coloured chords? What is an altered scale anyway? For more advanced players this course will answer the above and more via the performance of well-known jazz repertoire. All instruments welcome, but places are limited: we are looking to recruit a small number of front-line soloists and bass, drums, piano and guitars.
Tutor website: www.jefferywilson.co.uk
What will we cover?
How to negotiate the most relevant chord changes used in jazz music. Some gentle ear training and theoretical knowledge.
What will we accomplish? By the end of this course you will be able to…
Gain an overview of jazz music needs. Develop a strategy for private practice and learn some appropriate jazz language.
What level is the course and do I need any particular skills?
Upper Intermediate to Advanced
To be fluent on your instrument and have a moderate reading ability with some theory knowledge. As a guide I would say post Grade 6 instrumental and at least Grade 5 theory.
How will the course be taught, and will any preparation be required?
Group work and discussion with a little one to one. Practical with lots of 'hand outs'.
As for preparation a look at some of the repertoire to be encountered would be helpful.
Will music be provided in advance of the course?
A course document is in preparation with music and some notes but more resources will be available on the course too.
Is there anything I need to bring?
Instrument and note book with music staves.
What previous participants said about this course…
"Jeffery Wilson is always superb."

"Outstanding and we'll tailored to individual needs. Great fun, instructive and highlighted scope for future development."

"I found the course both very enjoyable and informative."