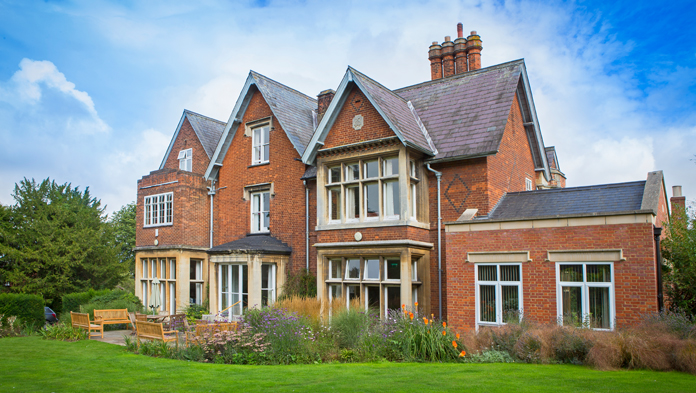 We need your help urgently to raise at least £200,000 to ensure the survival of Benslow Music
I hope that you are keeping safe and well in these extremely challenging times. I had hoped too that I would not have had to write a letter such as this, but our future is perilous and we need your support, now more than ever before, both to ensure survival and to build a stronger life for Benslow Music.
Being at Benslow Music means so much to all of us. We had a tremendously positive start to the year musically, exceeding financial targets too. However, like most music organisations, the closure of our site during lockdown means that we've had no income, neither from residential courses, concerts, our bar, nor from Bed and Breakfast clients. Many of our staff are on furlough. We have cut operating costs to a minimum. A small core of staff are currently maintaining essential operations, running online courses and activities, planning and preparing for the time when we are able to re-open.
If everyone on our database were able now to give at least £25 we would raise the £200,000 we need. Can you give more than that?
All at Benslow Music are deeply grateful for all your support and, especially, the donations we have received so far during this COVID-19 crisis. Nonetheless, as things stand there is a severe risk that the only way we can survive as an organisation beyond late autumn this year will be with your direct help.
Our aim, our hope, is that we can return to some semblance of normal operation and income generation by early 2021. We will re-open shortly and intend to run a small range of courses on site in July and to expand this provision through this autumn if we can. But these and other initiatives will not provide sufficient income to balance expenditure for some time. That will depend on guests being confident about returning. Our recent surveys suggest that while some may be willing to come back soon many others want to wait for at least another year before that happens. At the same time we want to develop our online presence, our ability to livestream events and to enhance our facilities, to broaden our reach to everyone, and so to enable the strongest presence in the UKs music ecology when we do emerge.
Can you give £250? The more you can give the sooner we can reach our goal
To enable any form of longer term survival we have to ask for your help, now, to ensure that we are in a position to restore full live music-making at Benslow during 2021.
We believe we need to raise a minimum of £200,000 very quickly, and ideally much more than that
- to build on all that has been achieved since mid-March
- to develop as much musical operation on site as soon as is possible
- as seed core funding towards restoration of full musical activity
- towards helping to build a sustainable future for the Benslow we know and love
- towards enabling your return to music making here with us.
Recovery may be a slow process. We want to be in a position to emerge strongly and so provide again all the great things that Benslow Music has given to so many
We ask you to donate what you can, now, so that we can open our doors fully when that proves possible. Our reserves, prudently built up over the last few years, supplemented by the extremely kind and generous donations we have already received, are finite and diminishing fast. By making as substantial a donation today as you can you will help us restore our valuable work, and preserve our wonderful tranquil site for the purpose it was intended.
We will be enormously grateful for any donation that you can give. Do please take a look at the short video on our website below and, for example,book an online course, or if you feel reasonably confident with the precautions we already have in place (see our FAQs section on our website) please book a residential course during the autumn, encourage others to give, turn your donation into Membership or Life Membership, commit to giving a sum each month, offer a promise for a Silent Auction (contact Joanne Flavell at joanne@benslowmusic.org), organise your own fundraising effort on our behalf.
This is how you can make your donation
Via JustGiving: www.justgiving.com/campaign/KeepMusicAtBenslowAlive
By setting up a monthly standing order, or making a single donation via your bank (please contact Karen Luxon karen@benslowmusic.org for details)
By sending a cheque direct to Benslow Music Trust, marked Donation on the reverse to Benslow Music, Benslow Lane, Hitchin SG4 9RB.
If you have not already signed a Gift Aid form please do so (forms available at the right hand side of this page or via info@benslowmusic.org): this will make your donation go significantly further.
How will we judge success?
With your help we believe we will be able to continue as a viable organisation into 2021 and so prevent prolonged suspension of music making at Benslow. We will keep everyone informed of progress on a regular basis and we hope to be able celebrate success of this campaign with a live concert at Benslow Music in early October given by the Coull Quartet (to be livestreamed) and a collaboration with the LSO.
With great good wishes and in the hope that we will see you in person at Benslow Music soon.
Peter Hewitt (Chief Executive)